Since I began exercising consistently in 2008, I have used some sort of gadget to track my workouts. I started with a Polar watch (heart rate monitoring) to track my workouts, but then switched to a Garmin once I began running on a regular basis and wanted GPS to track my mileage.
Earlier this summer I purchased a FitBit Charge HR. I wore the FitBit Charge HR 24/7. I also wore my Garmin Forerunner 620 along with the FitBit Charge HR when I was running. I found the FitBit Charge HR to be somewhat accurate for tracking distance (without GPS) and within a beat or 2 for the average heart rate when compared to the Garmin. The FitBit Charge HR does have the capability to use the GPS via the FitBit app on my phone for more accurate distance tracking, but I never used it for that.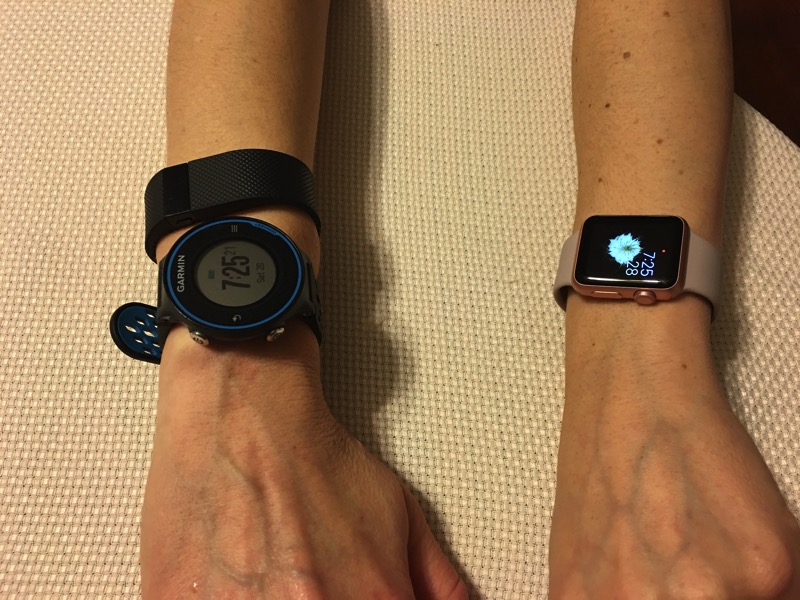 On Black Friday I ended up getting an Apple Watch and knew that there was no way I would wear all 3 devices at once, but wanted to figure out which was the best for the information I wanted to track. I knew I would continue to wear my Garmin for coaching MIT and speed work, but I didn't figure I would continue to wear the FitBit Charge HR. I committed to wearing all 3 for one week to compare data and then I would make my choice.
As far as distance is considered, the Garmin and the Apple Watch were pretty much spot on. The downfall is you have to be carrying your iPhone in order for the GPS to work with the Apple Watch, just like GPS for the FitBit Charge HR. For me that isn't a big issue, as I always run with my phone. As far as heart rate data is concerned, all 3 devices were within a beat or 2 of each other when comparing averages. The big deal here is the method of monitoring the heart rate…both the FitBit Charge HR and Apple Watch have wrist heart rate monitors and don't require the chest strap the Garmin 620 does. It is important to note that the device must be tight on your wrist in order for the heart rate to be accurate. 
The device you choose is dependent upon what your preferences are. For my daily runs, I have been wearing only my Apple Watch and have been completely satisfied with the data it tracks and records. As I stated above, for coaching MIT and speed work, I use my Garmin. I no longer wear my FitBit Charge HR. My daily activity tracker of choice is the Apple Watch. It has more capabilities that I use than the FitBit Charge HR. The only missing piece is the sleep tracker, which you can do using an App on the iPhone if it is important to you.
FitBit Charge HR – Monitors steps, heart rate, sleep, and has caller ID. Recently received some bad press regarding a lawsuit about inaccurate heart rates. MSRP = $149.99
Apple Watch – This is the only one of the 3 that measures how much you stand throughout the day. It encourages you to stand for 1 minute out of an hour 12 times per day. You can also use Siri, the alarm clock, your calendar, maps, instant heart rate, weather, texts, emails, and a number of apps. MSRP – $349 (38 mm – women's version); $399 (42 mm – men's version)
Garmin Forerunner 620 – Lots of bells & whistles, including GPS, heart rate, recovery time, and VO2 Max predictor. Does not monitor other daily activity or sleep. MSRP – $399 w/ heart rate strap
So there you have it. If you have any questions regarding any of the devices I shared above, please leave a comment below.