Had another excellent salad along side my filet mignon, sweet potato & sauteed snow peas for dinner. To create this salad I tried to think of things that "I" normally wouldn't eat on a salad and then added it to the salad. Normally I like my fruit separate from the rest of my food. I will eat fruit, but usually only by itself or with other fruit. Occasionally I will eat fruit on cereal, but that is about the extent of that. So, tonight I went out on a limb and put some fresh blackberries on my salad! Shocker, for me! I loved them! This was a great combo:
~ 2 handfuls of mixed greens (arugula & spring mix)
~ 12 or so cut up grape tomatoes
~ a few cut up radishes
~ 1 TBSP organic raw pine nuts
~ 1 TBSP or so goat cheese
~ handful of fresh blackberries
~ drizzle of balsamic vinaigrette
~ half of a cut up zucchini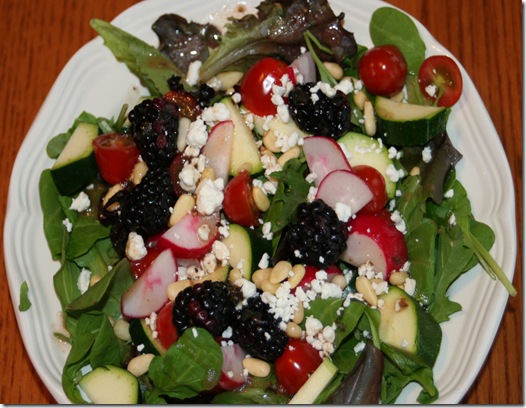 I was pleasantly surprised by this combo and will absolutely be trying it again very soon. See, this challenge is making me branch out! My Mommy is going to be so proud of me!