I love to read Andrea's blog, Off Her Cork, for many reasons. One of those reasons is Pizza Thursday! Andrea is a super-cool gal & I love her creativity in the kitchen. I can't tell you how many Fridays there have been where I am reading Andrea's re-cap of her awesome pizza the night before and I just sit there & drool on my keyboard. In an effort to save my laptop from drowning, I made this past Thursday at our house Pizza Thursday!
This wasn't just your typical pizza night here, this night was special. I was the only one who was going to be eating this pizza, so I could put any toppings on that I wanted. Wait until you see what I put on my pizza. I am so excited that I have leftovers for dinner tonight & probably lunch on Saturday, too. I will tell you that Jon will be one unhappy camper when he sees my topping choices.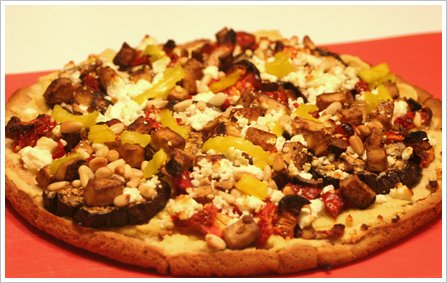 Do you see that yummy goodness? Are you ready for my topping list? Here we go –
Trader Joe's Hummus (Tahini-free)
Roasted eggplant
Sun-dried tomatoes
Stir-fried tofu (leftover from the night before)
Feta Cheese
Banana Peppers
Pine Nuts
I piled all of that on top of a pizza crust made by The Little Aussie Bakery and popped it into the oven for about 15 minutes. This pizza was amazing! I loved all of the different flavors & textures going on. The crust had a nice crisp to it, which is unusual for a gluten-free crust. I paired my pizza with some sauteed spaghetti squash & okra and a salad. I will definitely be making this combo again, much to the dismay of my family! LOL!