I have seen this cake called many different things.  Betty Crocker calls it "Better Than Almost Anything Cake" and Allrecipes.com has many similar recipes called "Better Than Sex Cake".  I don't care what you call it, the cake is awesome!  How can you go wrong with chocolate, caramel & Heath Bars?  Not only was this cake delicious, but it was very easy to make, too.  I had all of the ingredients on-hand except for the caramel sauce.  When I was browsing the topping/dessert sauce section of the grocery store, I went about my business as I usually do – by reading labels.  I had not looked into which sauce I would buy before going to the store because I had been in a hurry.  I figured if worse came to worse, I could call from the store or use my Smartphone to research it.  Imagine my surprise when I was reading the label of the first jar I picked up and it said "gluten-free" right on the front!  Funny thing is that I had scoured the back of the label and was unsure, so turned it around and if it had been a snake it would have bit me!  I love products like this!  The sauce was made by Mrs. Richardson's and was actually Butterscotch-Caramel as opposed to just caramel.  Sounded good to me, so I went with it.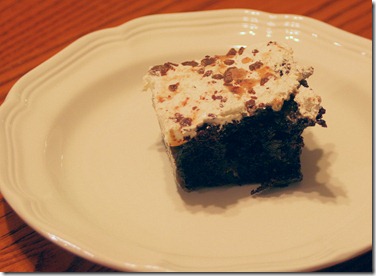 ***I apologize for the photo quality – I had to take a picture while I could!
Chocolate Heath Crunch Cake
1 box Betty Crocker's Gluten-Free Devil's Food Cake (eggs, water & butter that the box calls for)
12 –17 oz Mrs. Richardson's Butterscotch Caramel Sauce
1 cup Cool Whip
1/2 bag of crushed Heath Bars (sold by the bag near the chocolate chips)
Directions
1.  Bake cake according to directions on the package for an 8 x 8 or 9 x 9 inch pan.
2.  Once cake has cooled slightly, but is still warm, poke holes with the handle of a wooden spoon about 1/2 inch apart across the cake.
3.  Pour butterscotch caramel sauce over the holes & top of the cake.  Once the sauce has absorbed, cool the cake for at least 2 hours.
4.  Top with Cool Whip and crushed Heath Bars.
5.  Serve and enjoy.  Makes 9 – 12 servings, depending on how big or small you make the pieces. 
This cake was a huge hit for dessert on Christmas day.  Not exactly traditional, but may become a tradition.  My step mom's brother said "Skip baking cookies and just make this again!".  LOL!  I guess it was good! 
***************************************************************************************************
If you haven't taken the time to enter my thinkThin giveaway yet, click here to get busy!