Sixteen years ago today was my due date when I was pregnant with Jon.  The little stinker wasn't ready to come out yet, which is indicative of his personality.  Two days from now my "baby" will turn 16 and I am sending out a warning to all who live in Columbus – the boy is taking his driver's test on Wednesday – clear the sidewalks! 
I have to share that no one in my immediate family passed their driver's test the first time around.  I pray that this curse does not extend to Jon!  Both of my parents, myself and my sister all failed for one reason or another the first time around.  I did great on the maneuverability portion of my test.  During the driving portion, I went through a yellow light and it turned red, so I failed.  If I would have stopped, the car behind me would most likely have hit me, which would also have caused me to fail.  When I went to retake my test, the instructor asked me why I failed the first time around, because he saw no reason for me not to have passed.  I explained what had happened and he said he wouldn't have failed me.  Too bad he wasn't the instructor in the car at the time, right?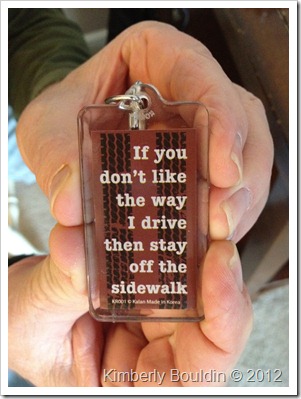 Keychain was a gift from Grandma Mary!  How apropos! 
---
Good thing that Tuesday is "Taco Night" since that also happens to be one of Jon's favorite meals!
Sunday – Leftovers – grilled chicken, burgers, baked beans and salad
Monday – Chicken fettucine Alfredo, steamed broccoli and salad
Tuesday – Taco Tuesday – soft tacos, black beans, corn and salad
Wednesday – Take-out – perhaps the boy can go pick it up with his sparkly new driver's license?
Thursday – Perfect pork tenderloin, sweet potato puffs, green beans & salad
Friday – Make your own pizza and salad
Saturday – Pasta with marinutta sauce, roasted zucchini and salad
---
Lots of fun stuff going on in the past week – make sure to catch up on these posts if you missed them:
Cold Stone Creamery in Westerville makes gluten-free ice cream cakes!
Sharkies giveaway – make sure to enter before Wednesday at midnight!
Sweet Potato Pizza – perhaps one of my best accidental combination ever!
Gluten-free slutty brownies – Thanks to Brandie for sharing the recipe!!
ZonePerfect Perfectly Simple bars are gluten-free and safe to eat!
Easy, 3,2,1 Micrcowave Cake – Gluten-Free
Review: Popcorn Indiana Chip'ins
Hope you all have a wonderful week!!