I have a fun giveaway lined up for you guys today!  Kit's Organic Fruit & Nut bars are gluten-, dairy- and soy-free and the perfect addition to your lunch box to round out your meal or snack on in the late afternoon to hold you over until dinner.  I was able to sample and review all four varieties earlier this year and they have become a favorite go-to snack of mine.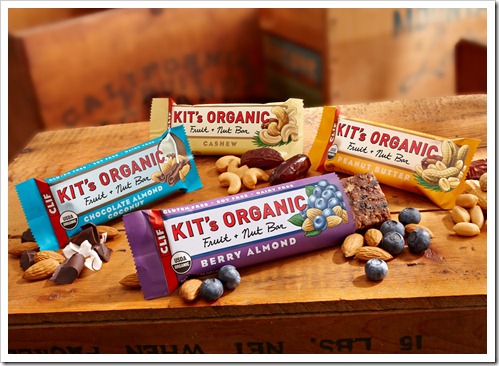 The new bars were created by:
Kit Crawford, Co-CEO and "first lady" of CLIF Bar & Company, recently launched Kit's Organic, a 200 calorie or less, gluten-free, soy-free, dairy-free bar made with 100% organic fruits and nuts.

Passion for organic products and handcrafted food inspired this simply delicious fruit and nut bar. Kit's Organic are crafted performance snacks full of flavor and made with just a handful of ingredients (five or less), including organic fruit and nuts.
One of my favorite things about these bars, aside from the great taste is the simple ingredient list:
Chocolate almond coconut -Organic Dates, Organic Almonds, Organic Unsweetened Chocolate, Organic Coconut, Organic Virgin Coconut Oil, Sea Salt.

Berry almond – Organic Dates, Organic Almonds, Organic Barberries, Organic Bilberries, Sea Salt

Peanut butter -Organic Dates, Organic Peanuts, Organic Almonds, Sea Salt.

Cashew – Organic Dates, Organic Cashews, Organic Almonds, Sea Salt.
Kit's Organic has offered to give 5 lucky readers each 2 bars of each flavor (8 total bars).  Awesomeness, right?  All you have to do to enter is follow the instructions in the Rafflecopter box below.  Continue reading →