I get lots of emails daily that contain recipes.  Some catch my eye, others?  Not so much.  Monday morning the puppy woke me up at 3:30 AM to go outside and play pee and I had a rough time falling back to sleep.  That left me laying in bed reading my email on my iPad.  I came across an email titled "Best Ever Banana Bread".  How does one ignore that?  Yeah, you don't.  As I was reading the recipe I realized that I had two bananas on the counter that were past their prime, so perhaps this would be a great way to use them!  I bookmarked the page and came back to it later to see how easy it would be to modify the recipe to be gluten-free. 
Fortunately I only had to make one substitution – the flour – to make the recipe gluten-free.  I used an all-purpose baking mix that already contained guar and xanthan gum, so adding extra wasn't necessary.  The only other issue I ran into was not having any buttermilk.  I recalled that there was an easy way to fix that, so after Googling, I found that all I had to do was add 1 TBSP of lemon juice or white vinegar to 1 cup of milk.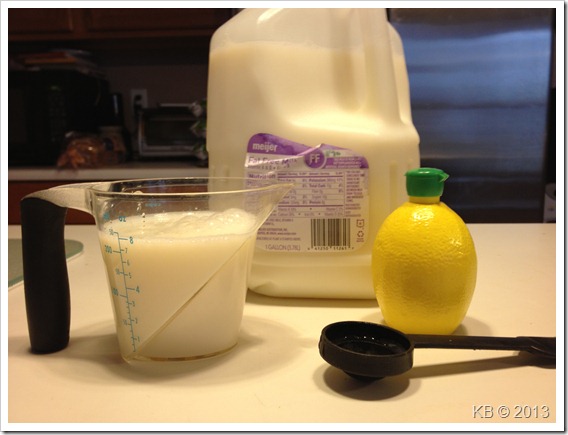 The recipe I used for inspiration comes from Taste of Home, but isn't gluten-free as written.  Here is the recipe with the changes I made and notes in italics.
Best Ever Banana Bread
1 3/4 cups flour – I used Mina's Purely Divine All-Purpose Gluten-Free Baking Mix
1 1/2 cups sugar – This can probably be cut down by 1/4 to 1/2 cup for less sweet banana bread
1 teaspoon baking soda
1/2 teaspoon salt
2 eggs
2 medium ripe bananas, mashed
1/2 cup canola oil
1/4 cup + 1 tablespoon of buttermilk – see above directions if you don't have any on hand
1 teaspoon vanilla extract
1 cup chopped walnuts – I omitted and added 2/3 cup mini chocolate chips
1.  Heat oven to 325 and grease 9 x 5 inch bread pan
2.  Mix dry ingredients together and set aside
3.  Mix wet ingredients together and add to dry ingredients, mix well.
4.  Fold in walnuts or chocolate chips.
5.  Bake for 70 minutes or until toothpick inserted in center comes out clean.
This banana bread certainly does live up to its name!  Wow!  The inside is so moist and flavorful, while the outside layer is like a thin, crisp crust.  When I was a child my least favorite part of the banana or pumpkin bread was the crust; not with this bread! 
---
Mina's Purely Divine All-Purpose Baking Mix has a combination of gluten-free flours and includes guar and xanthan gums, so the addition of any extra is not necessary.
Ingredients: Organic rice flour, potato flour, organic cassava starch, organic sorghum flour, arrowroot starch, teff flour, xanthan gum, guar gum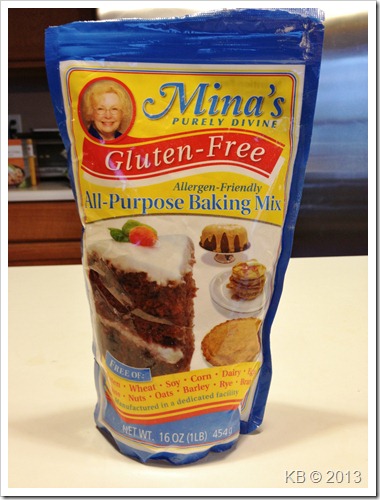 The baking mix can be used in recipes in place of non-gluten-free flour. Simply use the same amount of baking mix as you would flour. The baking mix can be purchased directly from Mina's Purely Divine website. A 1lb. bag is $5.34 and a 5lb. bag is $18.95 or $3.95/lb.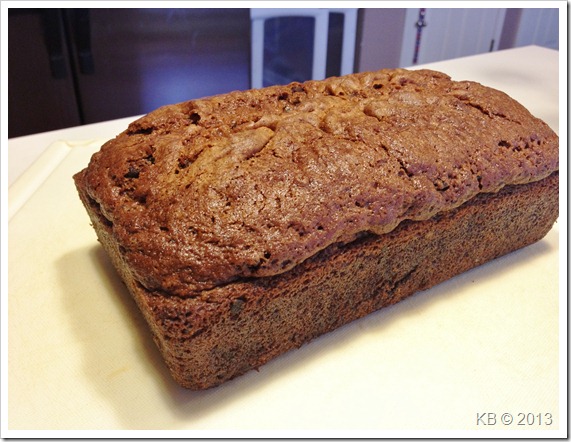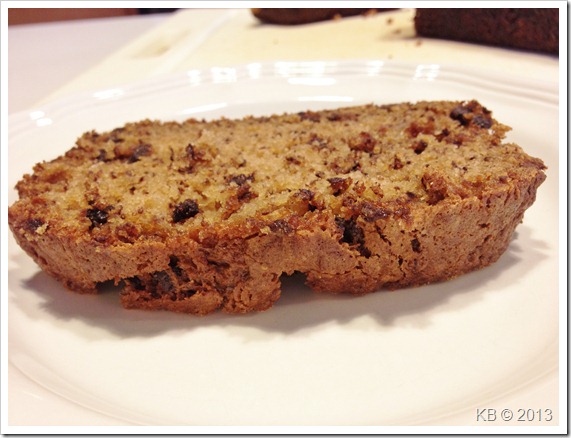 This, my friends, is how you make a cold, rainy Monday better.  Get busy!
**The baking mix used in this recipe/post was sent to me free of charge for review purposes.  The thoughts and opinions shared here are mine and have not be influenced by anyone or anything.