I have been participating in some evening exercise classes recently which makes my dinner time later than the rest of the family's.  I can't very well eat a full meal and then go run or to an intense exercise class.  I found what works best for me is to fuel before hand with a gluten-free bagel & peanut butter or a NuGO Dark protein bar. 
After my workout is over my new favorite way to refuel is with a simple steak salad.  I pre-slice lean steak and marinate in Kraft Tuscan House Italian dressing.  When I get home I simply toss the steak slices into a saute pan for a few minutes per side while I make my salad.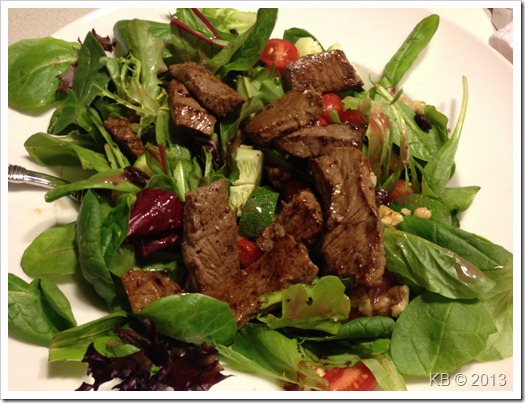 I could make this process even faster if I prepared the salad before I went to my class, so all I would have to do once I got home is cook the steak.  Some of the other goodies I like to include in my salad:
avocado
walnuts
dried fruit (raisins)
cucumber
zucchini
grape tomatoes
radishes
snow peas
How do you manage fueling around dinner time workouts? 
---
Don't forget to enter the Daiya New Year's Giveaway!