Have you heard about "The Perfect 10 Kookie" or Karlie's Kookies?  It is this amazing cookie kookie that was created by famed Momofuku Milk Bar pastry chef, Christina Tosi and her long-time friend and supermodel, Karlie Kloss.  More about the kookie:
The Perfect 10 Kookie (see recipe below) is a delicious treat made with healthy, all natural ingredients and is dairy-free, gluten-free and sweetened with agave.  The cookies are available for sale at Momofuku Milk Bar in Manhattan and 30 percent of the proceeds go to FEED, an organization that provides school meals to children around the world through the United National World School Feeding program. Each "perfect 10 kookie" sold provides 10 school meals to hungry children around the world.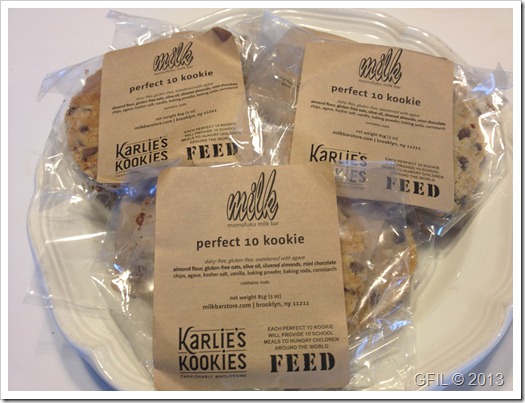 I was blown away by these kookies!  They have a wonderful texture and flavor and I love the simple and natural ingredient list. I kept waking up thinking of the cookies and almost justified having one for breakfast!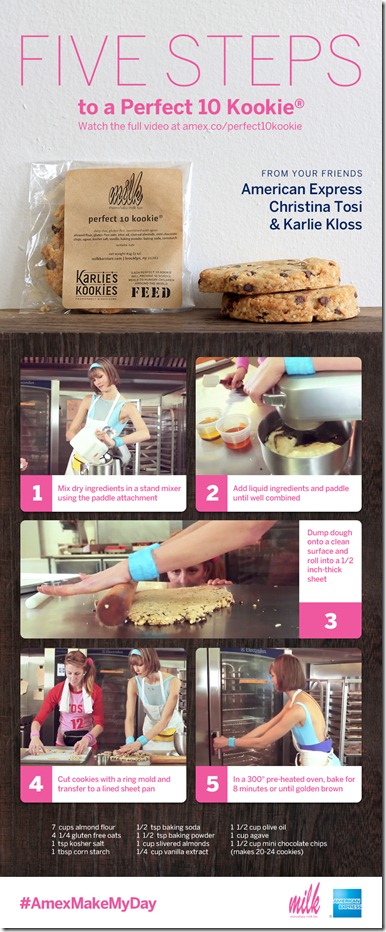 Ingredients:
7 cups almond flour
4 1/4 cups gluten-free oats
1 tsp kosher salt
1 tbsp cornstarch
1/2 tsp baking soda
1 1/2 tsp baking powder
1 cup slivered almonds
1/4 cup vanilla extract
1 1/2 cup olive oil
1 cup agave
1 1/2 cup mini chocolate chips
(Makes 20-24 large cookies)
The cookies can be made by following the recipe above, or enter below for a chance to win one of 5 giveaway packages of Karlie's Kookies.  Each winner will receive 2 tins of Karlies Kookies!