When I began heart rate training a couple of years back I started taking my resting heart rate in the mornings before getting out of bed.  Doing so helps me get a quick glimpse of how my body is adjusting to training.  An elevated resting heart rate can mean many things – some of those things can be benign, while others may demand some action on my part such as an easier workout than I had planned or an extra day of rest.  If my resting heart rate remains elevated for more than a day or two it is time to take a step back and take a look at what my body is trying to tell me.  Am I getting sick?  Am I overtraining (demanding too much from my body), which can lead to an increased risk of injury or illness?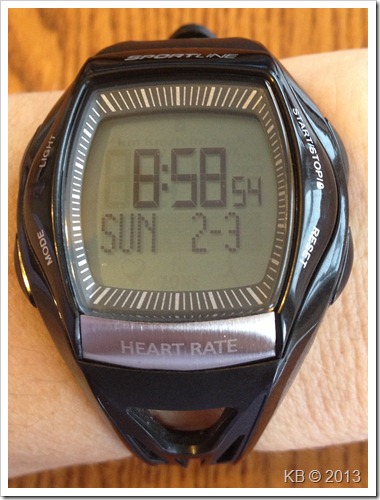 I have tried to find an easy solution to getting an accurate read on my resting heart rate other than my finding my own pulse and counting.  Sleeping with my Garmin's heart rate strap on is a pain in the butt.  Using an app on my iPhone has been okay, but some question the accuracy of this method.  When I heard about the Sportline Solo 965 Womens HRM I was intrigued.  The HRM/watch is worn 24 hours a day and not only measures resting heart rate, but several other things as well:
Features:

•Fit Trac™ (resting heart rate tracker)

•Move Trac™ (movement recording)

•Tap Display- tap screen to access Fit Trac

•Steps

•Distance + AUTO-STRIDE CALIBRATION

•Speed

•Calories-burned

•Stopwatch (50 lap)

•Count-down timer

•Heart Rate with % of Max

•Fat-Burn Zone indicator (dot matrix display)
I wore the watch for a little over a week to get a good idea of the accuracy of the features.  When I ran, on the treadmill or outside, I also wore my Garmin so that I could compare distance accuracy.  Here are my thoughts:
Pros

Accurate distance (steps/miles)/movement tracking.
Great way to check in to ensure you are hitting movement targets and total calorie burn
Timer and Stopwatch are great for interval workouts.

Cons

Backlight only stays lit for 5 seconds making taking your resting HR first thing in the morning hard if it is still dark out.  Moving around and/or getting up to turn the light on defeats the purpose.
Fit Trac was not supposed to activate if the screen was locked, yet it continued to activate and therefore took over the screen or watch until it found the HR or timed out.
I was not able to get an accurate read for Fit Trac, which monitors your fitness level by tracking resting heart rate.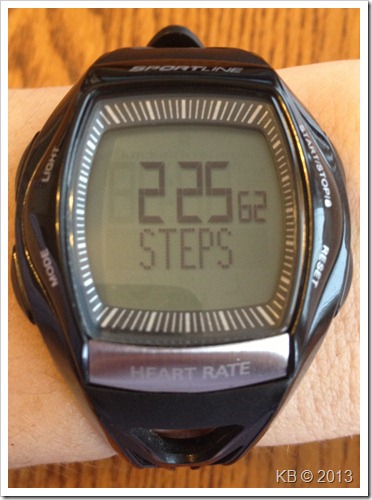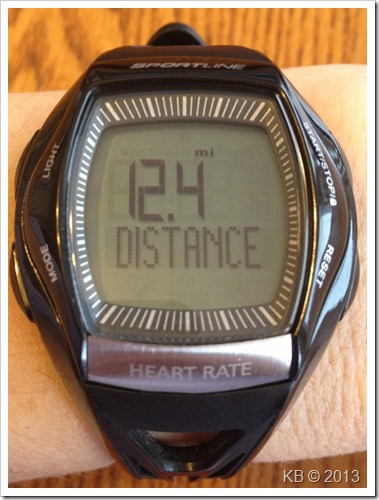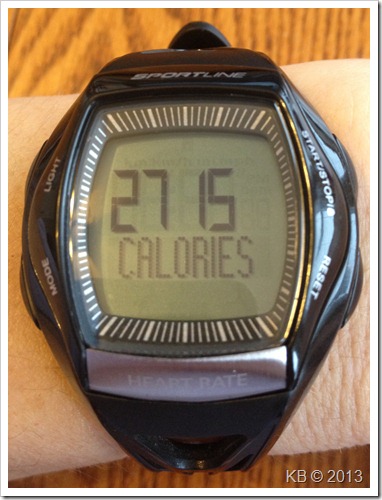 The above photos were taken over a period of 1.5 days or so.  Ideally you would reset the watch every morning before getting up to accurately track your day. I think this product can be a very useful tool for someone who is trying to lose weight and improve their fitness and would be something I would recommend to my friends and clients.
The Solo 965 can be purchased for $99.99 directly from the Sportline website or on Amazon.com ($70.oo right now!).
*The product reviewed in this post was sent to me free of charge for review purposes.  The thoughts and opinions shared here are mine and have not been influenced by anyone or anything.