Happy Earth Day! Did you know that Balance Bar Dark Bars are made with 100% Rainforest Alliance Certified™ cocoa? I didn't!
The Rainforest Alliance certification assures consumers that our cocoa beans are grown on sustainably managed farms that protect people and their surrounding ecosystems of water, soil and wildlife.
In celebration of Earth Day, I am offering one lucky reader a box of Balance Bar Dark Chocolate Crunch Bars.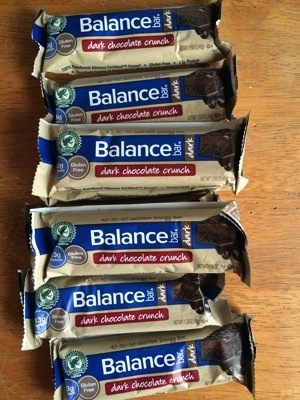 More about Balance Bar Dark Bars:
Time to tap into your dark side! Balance Bar Dark bars are packed with nutritious protein and fiber, certified Gluten Free and made with 100% Rainforest Alliance Certified™ cocoa—which means they're good for you AND the environment. Decadent and sweet, each dark chocolate bar is a scrumptious way to get the 40-30-30 nutrition and long-lasting energy you need to outlast the day (or own the dark)!
The Balance Bar Dark Bars are certified gluten-free by the Gluten-Free Certification Organization (GFCO). *It is important to note that not all Balance Bars are gluten-free…those that are will be clearly labeled. There are three different varieties of gluten-free bars:
Dark Chocolate Crunch
Dark Chocolate Peanut
Dark Chocolate Coconut
All you have to do to enter to win a box of Balance Bar Dark Bars is leave me a comment telling me how you are celebrating Earth Day. Winner will be randomly chosen on the morning of April 25, 2014. 
*The products mentioned in this post are being provided free of charge for review and giveaway purposes. The thoughts and opinions shared here are mine and have not been influenced by anyone or anything.