You will all have to excuse my lack of blogging and/or recipes this week. I have been struggling to keep up with day to day life with this virus. While I hesitate to say it, I think that now, after 7 days, I have finally turned the corner & my chest no longer feels as if someone is sitting on it. I hope I don't jinx myself.
Last Friday I had the wonderful opportunity to meet up with an amazing woman, Heidi, from Adventures of a Gluten-free Mom. Heidi lives in New Mexico, but grew up here in Ohio! When Heidi contacted me to see if I wanted to meet for lunch when she was in town, I was so excited! We met at Cheeseburger in Paradise for an awesome gluten-free lunch. Being the chatty bloggers that we are, we managed to have Jon take a picture of us, but we forgot to take pictures of our food?!?! What is up with that? LOL! The kids had school off that day, so they joined us for lunch. Heidi was able to pick Jon's brain a bit, but being the extremely cooperative 13 year old boy that he is, he probably wasn't as forthcoming as Heidi would have liked. The kids were well behaved for the time that we were there.

Jon ordered the gluten-free cheeseburger & fries and a salad on the side. He wasn't happy with the way his burger was cooked, but that was because I won't let him order it medium-rare. Geez, Mom, lighten up already! 😉 I ordered the Turkey Burger with mushrooms, Swiss & avocado on top with a side of fries and a salad. That was the first time I had fries in close to a year! Carb loading & fries go hand-in-hand. Heidi had the Cheeseburger in Paradise (I think) and fries. She was very pleased to see fries on the gluten-free menu. Want to see a picture of us?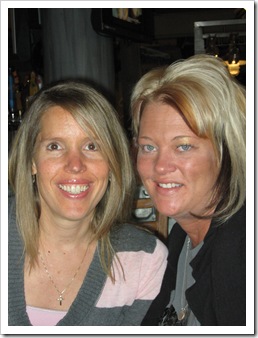 Heidi, it was so great to meet you! Thank you so much for the bottle of wine & green salsa. One of these days I will be able to drink that wine. Must stop taking cold medicine first. 😉 Please let me know the next time you will be in town. Maybe I can make you dinner!