I happened upon this recipe in an Eatingwell.com email.  The original recipe calls for dried cherries, but I didn't have any so I subbed dried cranberries instead.  This recipe screamed "Christmas cookie" to me, so I knew that I had to include it in my "Cookie-A-Day" series.  This recipe is full of healthy ingredients – almonds, canola oil, dried fruit.  So, you can feel good about treating yourself to one of these cookies and these cookies ROCK!  I was so pleasantly surprised when I tasted these.  Jon was adamant about not trying them because he doesn't like dried fruit.  Well, they smelled so good he asked to try one.  He ended up eating three & saying he loved them!  They are really good warm.  I couldn't convert Hannah, but that is okay, this only made 20 cookies, so more for us!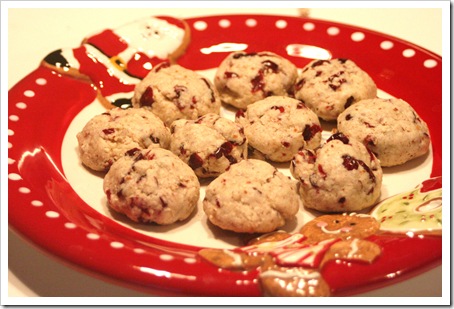 Almond Cranberry Bites
1/3 cup whole almonds (I used Trader Joe's raw almonds
1/3 cup sugar
2/3 cup coarsely chopped dried cherries
2/3 cup gluten-free flour mix (I used Carol's sorghum mix)
2 tablespoons canola oil
1 large egg white
1/4 teaspoon vanilla extract
1/4 teaspoon almond extract
2 tablespoons chocolate chips or finely chopped dark and/or white chocolate, for decoration (optional- I opted not to add this)
Method
1.  Heat oven to 350.
2.  Grind raw almonds & sugar in a food processor until you have the desired texture; the finer the texture, the more intense the almond flavor & less crunch from the almond.  Be careful not to turn the almonds into paste.  Transfer mix to large bowl & mix in flour & cranberries.
3.  Add egg white, oil, vanilla & almond extracts.  Mix until well incorporated.
4.  Shape dough into small balls and place on ungreased cookie sheet.  Bake for 10-12 minutes or until the bottom is slightly brown; the tops will not brown.
5.  Transfer to a wire rack & cool completely.
6.  Optional- melt chocolate & drizzle over cookies with a fork.  Let stand until chocolate sets.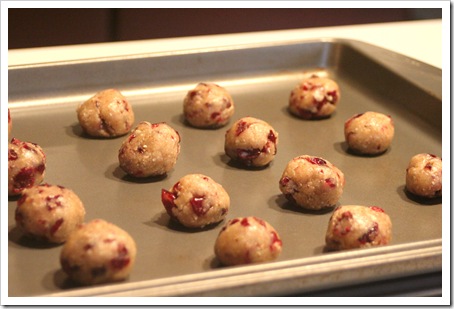 Tips
1.  This is another mix where a GF flour mix without baking soda, baking powder & xanthan gum are not needed.  I am not sure how the cookies would turn out if you were to use a mix with those added in.
2.  The chocolate melted on top is not necessary, in my opinion and you all know how much I love my chocolate.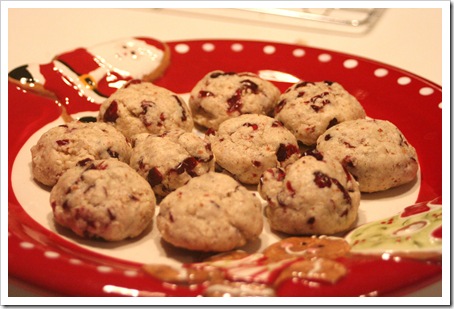 These are now going to become a holiday staple in our house.  You can freeze these for up to 3 months.  They have about 75 calories per cookie (recipe made 20 cookies).
_________________________________________________________________________________________________________________________________________________
In case you missed this: College Inn has recalled some chicken broth for undeclared wheat.  You can read more about it here.