The 2010 Super Bowl will be on February 7th.  Am I excited about it?  Not so much, but I am excited for the snacks and the commercials!  Super Bowl Sunday = fun snacks!  I have a handful that I love to make, including Buffalo Chicken Dip, Fruit Skewers with Dip, Shrimp Cocktail & Nachos.  After writing my Organicville review the other day, Lisa contacted me with some recipes for Lentil Chile & Salsa Dip.  I can't wait to share these with you!  The Lentil Chile would be good over the nachos in place of the chili I normally use.   The following recipes both use Organicville Salsa.  Here are some quick facts about the salsa:
Organicville Salsa Quick Facts:
· USDA certified organic
· Fat Free
· Gluten Free
· Contains no sugars
· Only 15 calories per serving!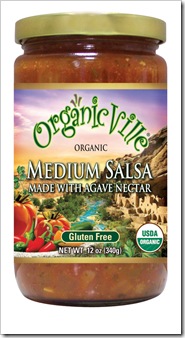 Sweet and Spicy Lentil Chile:
Ingredients:
· 1 tablespoon olive oil
· 1 large onion, chopped
· 1 red bell pepper, seeded and chopped
· 2 garlic cloves, minced
· 2 tablespoons chili powder
· 1 1/2 cups lentils
· 15 oz can crushed tomatoes
· 12 oz jar of Organicville Salsa (Mild, Medium or Pineapple)
· 1/2 teaspoon allspice
· cayenne pepper to taste
· salt and pepper
· 2 cups water
· 1 cup apple juice
Directions:
· Heat oil in skillet over medium heat.
· Add onion, bell pepper and garlic; cook until softened.
· Stir in chili powder and cook 30 seconds longer.
· Transfer mix to 4 qt slow cooker.
· Add lentils, tomatoes, Organicville Salsa, allspice, season with cayenne, salt and pepper.
· Stir in water and juice.
· Cover and cook on low 8 hours.
· Add more water if chili gets too thick.
Servings: 12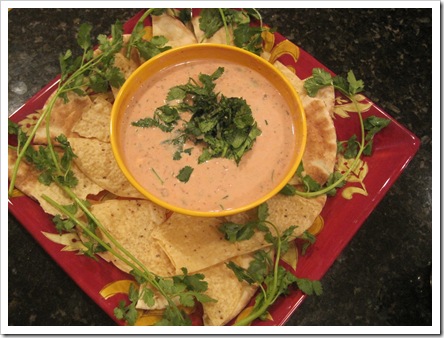 Organicville Salsa Dip:
Ingredients:
· 1 cup plain Greek yogurt
· 3 Tbsp. chopped fresh cilantro
· 1 jar Organicville Medium salsa
· 1 Tsp. balsamic vinegar
Directions:
· Mix ingredients together in a medium sized bowl
· Chill in refrigerator before serving
· Serve with veggies, pita wedges, and tortilla chips
In addition to the great- tasting salsa,  Organicville is the maker of a line of organic ketchup, barbeque and teriyaki sauces and vinaigrettes that are available for purchase in supermarket chains, natural food stores nationwide and online at Amazon.   Additional product and availability information can be found at Organicville Foods.