Make these doughnuts to quiet your craving for those Krispy Kremes that you can't have.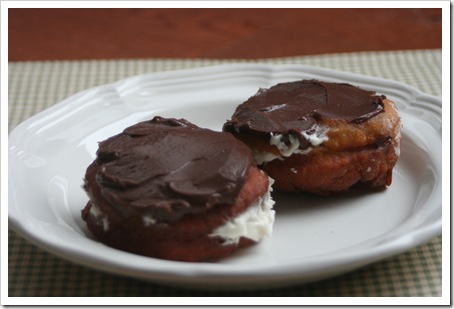 Doughnuts
3/4 cup milk, scalded
1/4 cup of water – for yeast
1 large egg
1 tsp baking powder
3 tsp xanthan gum
1 stick of butter, melted
1/2 cup tapioca flour
1 cup sorghum flour
1/2 cup potato starch
1/2 cup rice flour
1/4 cup sugar
1 pkg rapid rise yeast
1.  Scald milk. 
2.  Mix flour, xanthan gum, yeast & baking powder together.
3.  Add milk, sugar, egg, butter (melted & slightly cooled) and 1 cup of flour mix to mixer.  Beat on low, scraping sides constantly for 30 seconds.  Gradually add the remainder of the flour mixture.  Beat on medium speed, scraping bowl occasionally for 2 minutes. 
4.  Let dough rest for 20 minutes, then knead.  Cover & let rise in a warm place for 20 – 30 minutes. 
5.  Turn onto a floured surface and roll dough to about 1/2 inch thick.  Cut with round cookie cutter or biscuit cutter.  Place on parchment lined baking sheets.  Cover with a warm, moist towel & let rise for 20 or so minutes. 
6.  Heat oil in fryer or Dutch oven to 350 – 365.  Slide doughnuts into hot oil.  Turn as they turn golden brown, about 1 minute on each side.  Remove carefully from oil and drain (do not prick surfaces).
7.  When cool, make a small hole to insert the filling.  Take a sharp knife & carefully make a large cavity inside of the doughnut to hold the filling.  Fill doughnuts generously & top with powdered sugar or frost.  **It may be easier to just slice the doughnuts & half & fill – this is what my MIL ended up doing.
Filling
3 TBSP shortening
6 TBSP butter
1/2 tsp vanilla extract
1 1/2 cup powdered sugar
1 TBSP Milk
1.  Cream butter & shortening, gradually add sugar, 1/2 cup at a time. 
2.  Add milk & vanilla, beat until light & fluffy. 
3.  Fill doughnuts.  (Will keep for 2 weeks in an airtight container in the refrigerator. 
Frosting
My MIL used Pillsbury Chocolate Frosting, but you could easily make your own.  Below is a recipe for a Chocolate Doughnut Glaze from Alton Brown.
1/4 cup unsalted butter
2 TBSP whole milk
1 1/2 tsp light corn syrup
1 tsp vanilla
2 oz bittersweet chocolate, chopped
1 cup powdered sugar, sifted
1.  Combine butter, milk, corn syrup and vanilla in a medium saucepan and heat over medium heat until butter is melted.
2.  Decrease the heat to low, add the chocolate and whisk until melted. 
3.  Turn off heat, add the powdered sugar and whisk until smooth. 
4.  Place the mixture over a bowl of warm water & dip the doughnuts immediately. 
5.  Allow glaze to set 30 minutes before serving.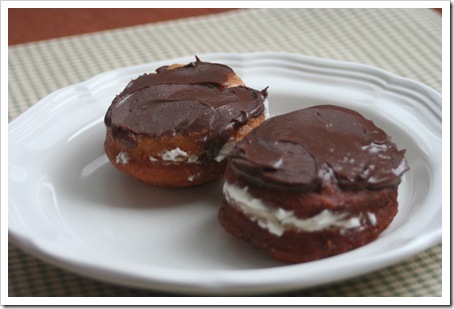 These doughnuts did not last long in our house.  I think I got a couple bites.  Seriously.  Hannah had 1, I sent 1 into a friend that works with Aaron & Jon ate the rest.