Back in December, Grain Free JK Gourmet sent me some complimentary products to sample.  They sent me 2 different kinds of granola, biscotti & some almond flour.  JK Gourmet is located in Canada and was started by Jodi Bager.  After Jodi was diagnosed with Ulcerative Colitis, she started to look for a drug free way to treat her condition.  It was this journey that inspired her to co-author 2 cookbooks with Jenny Lass and develop Grain Free JK Gourmet's products.
Some information about Grain Free JK Gourmet:
We guarantee that all of our products are:
• Made from whole, natural foods
• Grain-free (that's no wheat, bran, oats, rice, spelt, barley, rye or corn)
• Gluten-free
• Dairy-free and lactose-free
• Soy-free
• Trans fat–free
• Sweetened only with honey
• Legal for the Specific Carbohydrate Diet
• A source of fibre and calcium
• Labeled accurately and include all ingredients
• Able to help lower LDL cholesterol
• Part of a healthy eating plan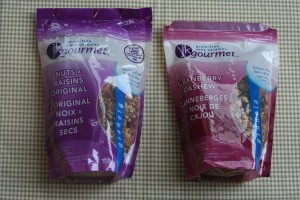 Nuts & Raisins Granola:
Ingredients:
Sunflower seeds, raisins, unsweetened coconut, walnuts, almonds, honey, pecans, pumpkin seeds, sesame seeds.
Nutritional Information:

Cranberry Cashew Granola:
Ingredients:
Cranberries infused with unsweetened apple juice concentrate, sunflower seeds, cashews, almonds, unsweetened coconut, honey, pumpkin seeds, sesame seeds.
Nutritional Information:

Orange Cranberry Biscotti:
Ingredients:
Ground blanched almonds, honey, whole eggs, unsweetened cranberries, whole orange juice and zest, baking soda, salt.
Nutritional Information:

I shared the granola with Lindsey – she works with Aaron & has helped me out with sampling other items too.  Lindsey preferred the Cranberry Cashew over the Nuts & Raisins and ended up mixing them together for a nice treat!  I have to say that cashews & cranberries are favorites with me, so that is what I am going with as well.  The Nuts & Raisins granola is good, but when comparing, the Cranberry Cashew wins.
The biscotti were awesome!  I have only had biscotti one other time since going gluten-free 4 years ago and these were much better.  I liked the crunch & the almond flavor throughout the biscotti.  While these do seem high in fat, that fat is from almonds – good fat.  Check out the protein content on those puppies!  If I am going to eat "cookies", I want to get as much bang for my nutritional buck as I can.
Grain Free JK Gourmet products can be purchased via the website or in come Canadian stores.
_________________________________________________________________________________________________
Make sure to check out my first post over on Celiac-Disease.com.  🙂