I had the pleasure of sampling some great tasting cookie bars from Squirrel's Bakery this past week. Alexander, the corporate director, sent me some complimentary samples. I recieved Cinnamon Chocolate Chip & Coconut Chocolate Chip. Squirrel's Bakery was founded in 2009 and is located in Virginia Beach, Virginia. You can find their products in these locations.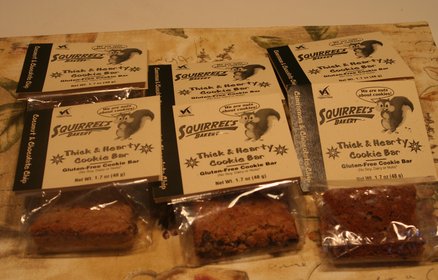 Coconut Chocolate Chip Bar
I loved how thick these bars were – they reminded me of a brownie or a blondie. I loved the texture & flavor. I also shared these with Lindsey and she loved this bar.
Cinnamon & Chocolate Chip Bar
Again, this bar was nice & thick & had a great texture. You could really taste the cinnmaon. These were really good, though I think I prefer the Coconut Chocolate Chip.
You can purchase these cookies at the locations listed above or by contacting Squirrel's Bakery. You can also request that your local store carry these. I am going to mention to my friends at the Raisin Rack next time I go in.