Yesterday, I had the pleasure of meeting up with some great gluten-free friends at Panera Bread. Most of us had met up last year at Z Pizza for a gluten-free pizza party. Amy, of Simply Sugar & Gluten-free, was in town visiting family with her husband, Joe. Jay, from The Gluten-free Post was there, as was Mary, from Gluten-free Mary, & her Mom, Gigi and Alison "Chef Ali", an amazing Glunten-free Personal Chef here in Columbus.
Jay brought his 2 boys along & I brought Hannah. The 3 of them were instant buddies. They all had their Nintendo DS's or DSi's. I have to give a special shout out to Jay, as all I heard about yesterday & this morning was how Hannah's DS was no longer good enough. She now needs a DSi. Thank you. 😉 I do have to say that I was very impressed that Jay's oldest son, Zach, shook my hand when he met me! Very nice manners.
Here are some pics of the group:
Mary & Amy – bloggers or what? Cameras in hand!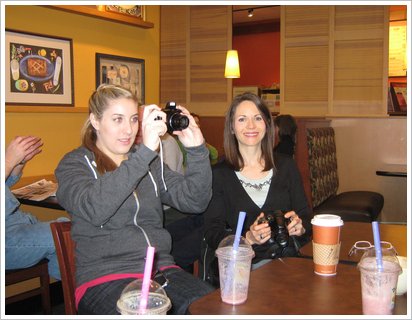 Meet, Alison "Chef Ali"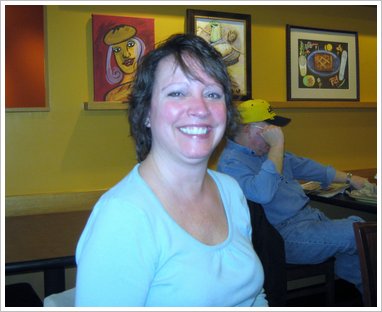 The group: From left to right – front row – Amy, Kim, Alison, Mary. Back row – Gigi, Jay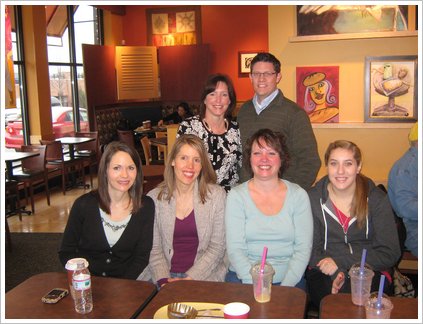 The kids. They had a great time.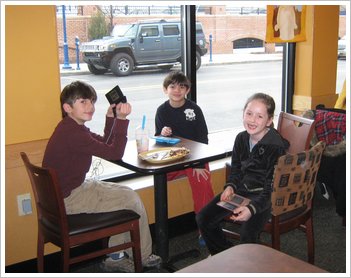 It was so much fun to meet up with these guys. I hope that we can have another tweet-up in the near future! Thanks for taking time out of your day to spend some time with us.
__________________________________________________________________________________________________________________
You guys will be so proud of me – I was able to stay out of Trader Joe's yesterday! This is harder than it seems, as it was literally right next door to this Panera Bread location.