I was sent a coupon for a complimentary product from French Meadow Bakery and a few additional $1 off coupons. French Meadow Bakery uses all natural ingredients and avoids using GMOs (genetically modified organisms). Here is some more information from French Meadow's site:
Mission
One Body, One Planet. Eat Well.
Since 1985, French Meadow Bakery™ has used only top-quality all-natural and organic ingredients, old world bread-baking techniques, ancient healthy grains and seeds, and cutting edge performance foods research to create baked goods the world loves. Here are four reasons you'll fall in love with us, too.

Our ingredients are all-natural.
Our skilled artisan bakers turn all natural, sustainable ingredients into tasty baked goods. We avoid using ingredients that contain genetically-modified organisms, which impact biodiversity in the plant world and have an unknown effect on human health.

We're certified by top agencies.
As a small company with sound practices, we're unwavering about standards of quality. We're certified organic by the USDA and Quality Assurance International, certified Gluten-Free by the Gluten-Free Certification Organization, and certified Low Glycemic for Diabetics by the Glycemic Research Institute. Search for Gluten-Free, wheat-free, and low glycemic index products.

Our foods taste good and are good for you.
We go beyond basic nutrition by using all-natural and organic ingredients that boost your health. Performance foods like hemp, sprouted grains, and flaxseed provide important vitamins, minerals, proteins, and good fats that help your body prevent and treat disease.

We're committed to sustainability.
Since its beginning, French Meadow Bakery™ has used ingredients and processes that help maintain the biological diversity and productivity of our world's resources. We use only certified organic grains and all natural ingredients grown in balance and harmony with nature. We support small farmers, the cornerstone of a natural, sustainable food system. And we're committed to educating our customers on the lifelong benefits of organic foods, which protect not only the planet, but our bodies and minds as well.
I chose the Cinnamon Raisin Bread & Fudge Brownies to sample. In addition to being gluten-free, these products are also peanut-free, casein & lactose-free.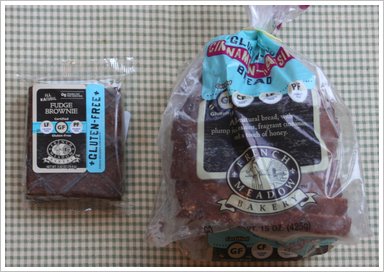 Cinnamon Raisin Bread – This bread had a great texture and had plenty of raisins in it. The cinnamon taste was perfect – not overwhleming at all. I loved enjoying this bread with a schmear of cream cheese for an afternoon snack.
Fudge Brownies – I have to tell you, I didn't get more than a bite or 2 of these. Jon loved them and enjoyed adding them to ice cream & topping with Cool Whip and Hershey's Syrup for a homemade sundae.
You can find French Meadow's products in these locations. If you are interested in trying out French Meadow's gluten-free line yourself, you can find a coupon here.