I have been following Vino De Milo on Twitter for a while now & I always see these tweets that get my tummy growling. When I was shopping at Whole Foods the other day, I found some of their dressings & picked up the Artichoke & Parmesan one. You can read more about Vino De Milo here.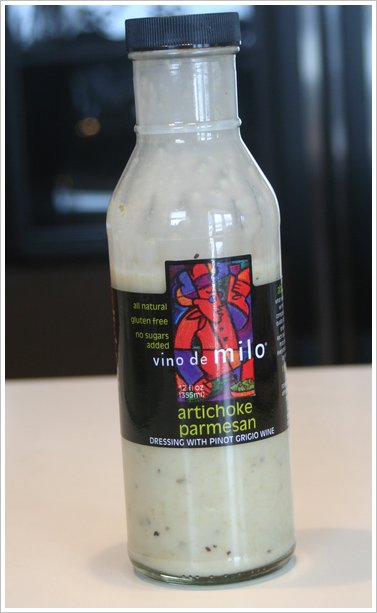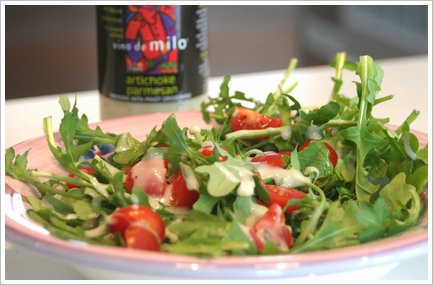 The Artichoke Parmesan dressing is described as "Creamy, yet low in fat, the parmesan in this dressing makes it a great alfredo alternative, or as a topping for fresh romaine. The delicate flavor of artichokes underpins a smooth texture, enhanced by a light white wine & fresh basil". I love that these dressings have no HFCS and have a short ingredient list. Nothing that is hard to pronouce and non-GMO canola oil is used.
I paired this dressing with an arugula & cherry tomato salad. What a perfect blend of flavors. Spicy arugula with the cool, creamy Artichoke Parmesan dressing. This is a great low calorie dressing at only 20 calories per serving.  I loved the creaminess & flavor of this dressing.  There is a recipe on Vino De Milo's site for an "alfredo" using this dressing. May have to give that a try!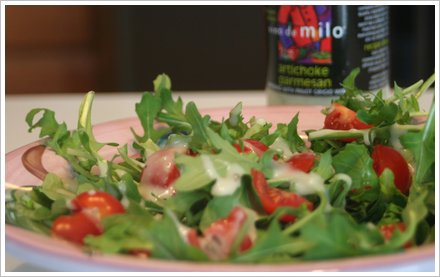 There are also 4 other dressings, pasta sauces & brushcettas to choose from on Vino De Milo's site. I also like that Vino De Milo is handmade & is made in Ohio! I love to support local companies.