I received a sample of a Wow Baking Company Chocolate Chip Cookie the other day. The cookie was big, like those I remember buying at the mall in my pre-gluten-free days at Rocky Mountain Chocolate Factory or Mrs. Field's. I quickly split the cookie in half & hid my half because I knew that once Jon set eyes on this cookie I had no chance of getting any.
More about Wow Baking Company:
Our home is in the Pacific Northwest, an environment of inspiration for All-Natural products and an area supporting "green" business practices. In 2007 we grew out of our production kitchen. This year we were excited to move into our new offices and production facility built to meet the growing demand for our products.

Susan Howe, our Director of Product Development is passionate about creating the best tasting WOW baked goods. With a true love for baking, Susan spends countless hours mixing and baking until she has mastered the ultimate blend of ingredients. After the WOW team gets a chance to devour her creations, Susan evaluates the comments and refines the recipie to perfection.

At WOW BAKING we are dedicated to creating the best tasting All Natural Wheat and Gluten-free baked goods found anywhere.
We love to hear people say "WOW" when they try our products. Let us know what flavors have you saying "WOW".

WOW BAKING COMPANY has re-defined Wheat and Gluten-Free Baked Goods.We make our products in small batches with premium all Natural ingredients creating DELICIOUS tasting Fresh baked Cookies and Brownies.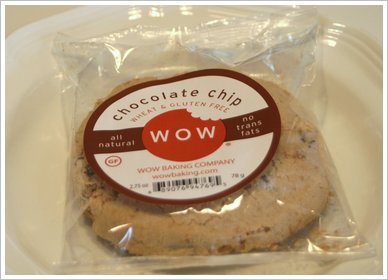 This picture can't do this cookie justice. This cookie was amazing. I know that I use that word a lot, but I really can't stress how good this cookie was. Maybe next time I will go with one of these words that just came up in a thesaurus search for amazing: awesome, fascinating, incredible, marvelous, prodigious, shocking, stunning, surprising, unbelievable, wonderful. I actually had to double & triple check the ingredients to make sure there was no gluten in it. Jon wasn't home when I tried the cookie, so I called him to get his thoughts & he said the same exact thing that I said. I honestly wasn't expecting them to be as good as they were. I don't mean that in a bad way, I don't know why I even thought it. Perhaps it was because the cookie was so big? I think maybe I thought it would be dry & crumbly? It was anything but. The flavor & texture were just as good as any gluten-filled cookie that I remember. I want to know where these cookies have been hiding for all the time that I have been gluten-free.
You can find Wow Baking Company cookies in these locations or you can purchase them online at Amazon.com. If you would like to try these out for yourself, just go here, tell your story & get a free cookie.