I was the very lucky recipient of some complimentary samples of some baked goods from Gluten Free Houston. Gluten Free Houston is located in Houston – I bet you didn't pick up on that one! 😉
Here is some more information on Gluten Free Houston & Randi Markowitz:
Are you in search of gluten-free solutions for yourself or a family
member? Are you in the Houston area? Then, I can help. I have
spent the last six years developing my own hand-made gluten-free
baked goods. When I first started out, all I came up with were
lumps of bricks! It's not easy to produce really good baked goods
without the gluten protein found only in wheat, barley and rye
flours. It is complicated and time consuming, but I have hit on a
formula that works. Even my non gluten-free friends think everything
is fantastic. As you probably already know, living gluten-free
is somewhat expensive–the ingredients are very pricey, but very
high quality. I decided that if I am going to take the time and effort
to bake things for myself, my family members and friends who do
not eat wheat, it might as well be the best it can be, with the best
ingredients. It's impossible to produce fresh gluten-free baked
goods on a large scale. Everything has to be frozen and it's really
not very good. When it's hand-made and fresh, it is fabulous. If
you are a gluten-free person, you don't have to have baked items
with weird aftertastes, grainy stuff in your mouth, and that strange,
slightly "off" taste. You can and should have the best. Bear with
me here, because these items are not inexpensive. However, I can
guarantee that they are much better than anything you can buy
that is frozen, and better than any mass-produced fresh items.
That is why I am doing it my way—very small selection of items, in
very small quantities, that are available fresh and delicious. Otherwise,
why bother?
Gluten Free Houston is also on Facebook, Twitter and has a blog.
I had the pleasure of sampling the Cinnamon Coffee Cake & Carrot Cake.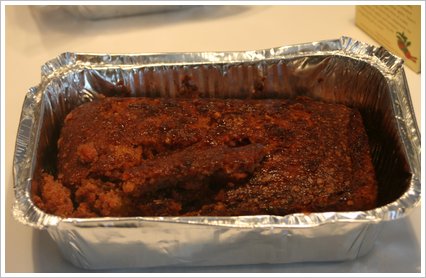 Carrot Cake -Fabulous carrot cake muffin loaf, 12 oz., ingredients: sorghum flour, tapioca flour, cornstarch, baking soda, salt, xanthan gum, cinnamon, sugar, eggs, canola oil, buttermilk, vanilla, carrots, pineapple, coconut. Arrived a little crumbly, but that did not effect the taste. The taste was outstanding – one of the moistest cakes I have ever had. The texture was perfect and you can actually taste the chunks of pineapple in the cake. Jon & Lindsey both loved this cake, too.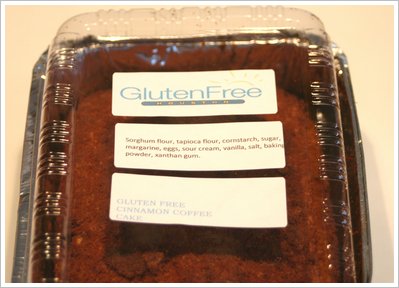 Cinnamon Coffee Cake -Our fantastic gluten-free 12 oz. cinnamon coffee cake. Stays delicious and fresh on your counter or in the refrigerator for days. It's one of our most popular items. Ingredients: sugar, vegetable oil, eggs, sour cream, vanilla, sorghum flour, tapioca flour, potato starch, salt, baking powder, xanthan gum. Wonderful flavor & texture. Jon wouldn't let many pieces out of his sight. Lindsey also enjoyed this cake.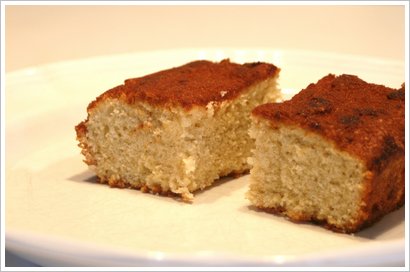 You can purchase items from Gluten Free Houston on their website or in these locations. Right now there is free shipping in Texas with any order of $24 or more!