A couple weeks back I received a complimentary pacakge of samples from You Bar. You Bar is a company that allows you to creat your own, personalized bars, shakes, cereals, trail mix & cookies.
You Bar was launched in 2006 after the mother-son founders, Ava Bise and Anthony Flynn, began creating protein bars at home to meet their taste, health and allergy needs. They loved eating their unique bars so much that they thought there would be a huge market for protein bars made freshly to customers' own taste and nutritional needs. Anthony, who had just graduated from business school (and has always had an irrepressible entrepreneurial spirit), said to his mom: "Let's launch a nutrition bar company," and she replied: "Yes, if we can customize them like the ones we make at home." And so, in a small commercial kitchen in Los Angeles, You Bar was born out of a basic concept-you are what you eat, so choose!®

Our revolutionary You Bar® fresh, customized energy bars are based on the belief that nobody else should decide what tastes good to us or what is good for our bodies. We have been giving our customers a choice with You Bars since 2006.

With You Bar®:
You choose the ingredients and the bar size.
You view the nutrition facts of your energy bar while you are creating it.
Your box of bars is hand made fresh-to-order and shipped to your door with a satisfaction guarantee. If you don't love your bars, you'll get a new box free of charge.
Your customized nutrition facts and your chosen bar name are printed on each individual bar package.
Friendly telephone customer support is available to answers questions and provide helpful recommendations.
Here are the products that I recieved: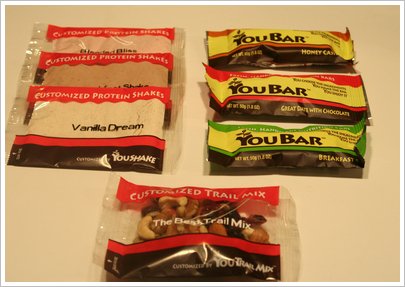 There were 2 samples I received that were not gluten-free, so I passed them along to Aaron. 🙂
Breakfast Bar– Deglet noor dates, Egg white powder, Honey, Cocoa Powder, Instant Coffee Crystals (caffeinated), Cinnamon. Great flavor, especially with the coffee. Great pre-run fuel. 8 g protein!
Honey Cashew Bar -Cashew Butter, Honey, Whey Protein, Nutty Rice Cereal, Organic Honey. I had this bar for a on-the-go breakfast one morning when I had to fast for a blood test. It was filling (10g protein) and tasted great! Loved the crunch of the Nutty Rice Cereal in it.
Great Date with Chocolate -Organic Dates, Whey Protein Isolate, Organic Honey, Cocoa. I ate this bar this morning before my long run & it was a great choice. Kept me fueled & feeling great. I love that these bars have protein in them! Loved the chocolate flavor!
The Best Trail Mix -Almonds, Organic Cashews, Walnuts, Organic Sunflower Seeds, Dried Sweetened Blueberries, Sweetened Cranberries, Sun Drops Original Chocolate Candies. Hannah loved this and only allowed me a small sampling Great combination.
Vanilla Dream -Soy Protein, Organic Cane Juice, Organic Vanilla Powder. Jon had this shake & he said while the flavor wasn't bad, it was chalky. He didn't use a blender, but stirred it up and added ice.
Breakfast Shake – Whey Protein, Egg White Powder, Organic Cane Juice, Cocoa Powder, Organic Bananas. I haven't tried this shake yet, but hope to get to it soon!
Blended Bliss – Whey Protein, Organic Cane Juice, Organic Strawberries, Organic Bananas, Organic Vanilla. I used a blender with this shake & mixed it with Almond Breeze (unsweetened vanilla). I love the flavor! Great protein – 14 grams! I used this to refuel this AM after my long run. This was not chalky at all. Maybe the blender is the key?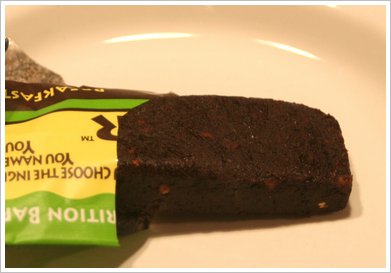 I was very impressed by the flavor & nutritional stats of the You Bar products. My 12 mile run today was fueled before & after by You Bar products. I felt great during the run & feel great now, too. I am always on the lookout for products that I can fuel with that don't upset my stomach or fill me up too much that I feel too full during my runs. You Bar definitely fits the bill.
Have you tried You Bar products? If not, here is your chance to get a 5% discount off of your order! Just enter the code: GFLife at checkout. You can order your own You Bar products by clicking here.