I am thrilled that Kim asked me to write a guest post on her awesome blog! My name is Heidi, and I am the quirky personality behind "Adventures of a Gluten Free Mom." A blog that is primarily on gluten-free cooking. I do a lot of copycat recipes for mainstream processed foods that kids love, like GF Goldfish crackers, but I tweak them to make them gluten-free and often offer suggestions to accommodate other food allergies. I also try to make them healthier by using ingredients such as Smart Balance (dairy) or Earth Balance (non-dairy) buttery spreads instead of butter. Spectrum shortening instead of Crisco, and just recently I started tinkering with replacing eggs (which are high in dietary cholesterol) with flax gel. It is extremely satisfying for me to overcome some of the restrictions of a gluten-free diet by making my own, equally tasty, gluten-free versions of popular foods from my previous gluten-filled life.
Even though I love to cook and experiment, I am a mom, first and foremost, to two little boys, ages 6 and 2. My six year old son was diagnosed with celiac disease in 2008 (hence my pursuit of GF Goldfish!) and it can be time consuming balancing cooking from scratch and everyday life with baseball, homework, and other commitments, so I do rely on some pre-packaged gluten-free foods from time to time. I am very picky though and I refuse to waste my money on products that are sub-par. I did enough of that when I was first diagnosed with celiac in 2005!
Some of our family's favorite gluten-free packaged foods:
Udi's GF Bread: When I found Udi's for the first time, I cannot tell you how over-the-top I reacted! I danced, I cried, I laughed and cried some more. I first discovered it in June, 2009 before it was really well known. Because I live only 6 hours from Denver, I think Albuquerque was one of the first cities to carry Udi's in our local Whole Foods Market. Up until then, I had experimented making my own GF bread and had come up with a few tasty options… as long as you ate it fresh and not as part of a sandwich. The homemade bread was too dense for me to use in a sandwich, and a day later, it would need to be toasted anyway. I don't know about you, but a toasted PB & J sandwich is still toast. Not a soft, pillowy PB & J! Not to mention, a toasted PB & J sandwich is just not all that desirable a few hours later when you pull it out of your lunch box! Udi's, without a doubt, changed my view of the gluten-free life, forever. I finally KNEW it could be done. Gluten-free no longer had to by synonymous with dry, grainy, or "tastes like cardboard." I quit trying to make my own GF bread after finding Udi's, I can't top it, so why waste valuable time?
Tinkyada GF Pastas: Without a doubt, a clone to gluten-containing pastas! It does not fall apart and get mushy like many GF pastas. I always use the Tinkyada pasta WITH the rice bran, for added fiber.
Glutino GF Pretzels: Love these, both the sticks and the twists… now they just need to make a Pretzel Rod!!
Schar GF Shortbread Cookies: I use these for all sorts of things, like making my own GF version of Twix candy bars. I have tried to make my own GF shortbread cookies, but I cannot seem to get them hard enough without burning them in the process. My husband eats the plain shortbread cookies every night with a glass of milk before he goes to bed!
Erewhon Organic GF Crispy Brown Rice Cereal: I use these to make Rice Crispy Treats, just be sure to add 1 tsp. GF Vanilla to the melted marshmallow mixture. I also use them in homemade GF "Nestle Crunch" bars!
General Mills GF Chex Cereals: Love 'em all (R.I.P. Strawberry Chex)
Cerealvit GF Cereals: Corn Flakes and Choco Stars
Enjoy Life Foods: Perky's Nutty Flax and Nutty Rice Cereals
Kinnikinnick S'moreable: A truly great GF Graham Cracker!
Better Batter GF Flour: I love this flour blend, although I am still figuring out exactly how it works, most things are out of this world, but a few things haven't turned out as well; like thickening gravy (still prefer Tom Sawyer's GF Flour for gravy).
Ener-G GF Crackers: I love these, both the original and onion flavors. We use them in all the standard ways you would eat a cracker (with cheese, nut butters and we even spread butter (actually Smart or Earth Balance) on top to replace bread & butter with dinner).
Those are our gluten-free family's favorite packaged GF foods that are always on hand in our house. There are a few other packaged foods that we splurge on here and there…
Glow Gluten Free Cookies: Miss Chips Ahoy! since going GF? Then you gotta get ahold of a Glow Gluten Free Chocolate Chip Cookie! All of Glow's cookies are divine!
Crave Bakery GF Cheesecake: All you have to do is see my review with the photos of my 6 year old attacking the cheesecake…
The gluten-free life can be trying at times (okay, most of the time!) but there are a lot of great resources out there that can make this long and winding road of a journey a little bit easier. Kim's blog is one of those resources! Kim is up-to-date and ON TOP of all "Breaking News," which is why I fondly refer to her as the "Gluten-Free CNN," subscribe to her blog and follow her on Twitter, I do and it has made me "in-the-know" on the important things that affect me and my family. 🙂
*****************************************************************************
Kim here – sharing a picture of Heidi & I back in October when she was visiting family here in Columbus: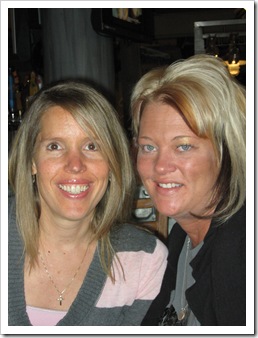 It was so great to meet Heidi in person! 🙂 We had lunch at Cheeseburger in Paradise!