Hi guys! My name is Andrea and my little home on the web is over at Off Her Cork. Kim and I are both runners and Ohio residents. We are practically neighbors! We first "met" when I put together a running support email group last fall for the upcoming Columbus Marathon and 1/2. I sadly had to pull out of that race because a previous hamstring issue was starting to resurface and cause me some stress. Kim ran that half strong though and she even had the flu!
But enough about Kim and I! I'm here for a guest post and my topic is about athletes and protein needs. I am talking /all/ athletes. It doesn't matter if you are a runner, swimmer, walker, lifter, or Mall Mover, we all need protein. We hear it enough, "Eat lean protein!" but most times that is followed by recipes for skinless boneless chicken breast.
Ugh. I don't know about you but I'm totally over chicken as the go-to for lean protein.
There are loads of ways to get protein into our bodies to help maintain and build a solid muscle base.
Soy is a great start. I understand that there is currently some controversy surrounding soy and it's effects on the body. However this is related to overly processed and genetically modified soy products.
There are organic and Non-GMO soy products available to us, we just have to take a second to read labels to make sure we are getting the best we can.
Soymilk and tofu are excellent sources of protein. In fact, I typically have a glass of chocolate soymilk after an intense workout session as a recovery drink. It has everything the body needs after working out:
Protein and Carbs.
Beans are also an excellent source of lean protein. Pitas (GF for those who need it) and hummus provides carbs and protein, both things athletes need.
Quinoa is making the scene as a whole grain that is also a complete protein. There are lots of things one can do with quinoa, it doesn't have to just be eaten as a side with some veggies. It can be baked to make a crunchy snack similar to granola, it can be added to oatmeal, and it can be used in baking. Pretty versatile for a grain!
Let's not forget dairy! Cheese and yogurt are great protein sources.
So are eggs! An egg with a slice of slightly buttered sprouted grain or gluten-free toast is a great snack or addition to lunch.
My favorite source of lean protein though comes from the sea. I love seafood! Seafood is jam packed with lean heart-healthy protein.
Whether it's fish, shrimp, or crab, you are supplying your body with the protein it needs to keep functioning and staying healthy!
I love all seafood, okay well maybe not octopus so much, but everything else! One of my favorites that we have a lot at OHC is salmon! Whole Foods has salmon in vacuum packed bags for a decent price. If you are a Columbus native, The Andersons has wild caught Norwegian salmon for amazing prices! They are in the freezer section.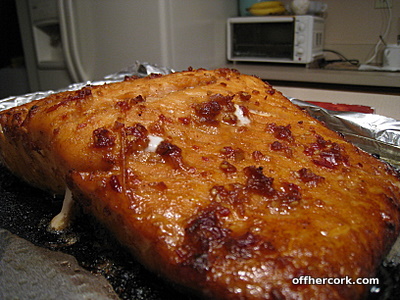 This is my go-to recipe for easy dynamite salmon!
1 1.5lb fillet of Norwegian salmon
1/2C Teriyaki sauce (La Choy & San-J have GF versions)
1TBSP Asian Garlic Chili Paste
1TBSP Light olive oil
1/2TBSP Maple Syrup
1tsp Garlic powder
1/2tsp Chili powder
1/2tsp Smoked paprika
Pinch sea salt
Preheat oven to 400 degrees. Line a cookie or baking sheet with some foil and spray with nonstick spray or brush with light olive oil. In a glass measuring cup or small mixing bowl combine marinade ingredients.
In a storage bag place the salmon and cover with marinade. Allow to sit in the fridge for about 15-20 minutes. Salmon really doesn't need a very long time to take on flavors.
Place salmon on prepared baking sheet and place in oven. Bake for about
10-15 minutes. I like my salmon when it hits the just done stage. If you prefer a little more rare, keep an eye on it and remove it just before 10 minutes is reached. Serve immediately and enjoy!
You do not have to use Norwegian salmon, Alaskan sockeye works just as well! Always keep in mind that you want to use wild caught salmon from companies who practice safe and sustainable fishing methods. Take the time to read the labels to see if the fish is wild caught or farm raised.
Come visit me over at Off Her Cork where I talk about food, wine, running, and life!