I won't make you wait until the end to find out who won my Cart Buster contest. I'll tell you right now! Are you ready? The winner is……..
True Random Number Generator
Min: 1
Max: 8
Result:1
Krysten!!!
Krysten H
March 9th, 2010 at 6:44 pm · Edit | Delete | Spam
I follow you on Twitter @krystenlindsay & love your info on gluten-free items and living gf. My favorite brand is Crest toothpaste.
Congrats Krysten!! Watch your email for a message from me!
***************************************************************************
Well, a week from today I will be finished with my 2nd half marathon! I am so excited. The only difference is there is no tapering for this race, as it is just part of my training for the full marathon I am doing in May. Now, if you can all send some "no rain" vibes for Sunday, March 21st in Atlanta, it would be much appreciated! This whole week is going to be a whirlwind. The kids & I are leaving on Thursday to head to Atlanta for spring break! We will be visiting my sister & her family & spending the week with them. Expect to see some fun new posts from some guests while I am away. 🙂 I will still be posting, but I have some things scheduled to keep you all entertained.
We are keeping things simple this week so that we don't leave Aaron with a bunch of leftovers to eat. I also plan on shopping for my gluten-free specialty items at Return to Eden in Atlanta, in addition to Kroger, Publix or Walmart. I can't wait to blog about our gluten-free travels!
Sunday – Rotisserie chicken, baked sweet potatoes, asparagus & salad
Monday – Salmon, brown rice, zucchini & salad
Tuesday – Pizza, veggies & salad
Wednesday – Leftovers/clean out the fridge
Thursday – Dinner on the road after we pick up my Mom
Friday – Dinner with my sis & family
Saturday – pasta carb loading!
Baked Goods
Brownies for the road
Don't forget to check out Orgjunkie for a lot of great menu ideas.
***********************************************************************
I have to share a post by Kristin at Iowa Girl Eats that inspired my lunch today. Kristin made the most awesome looking sandwich here. I knew that I had to have it for lunch. I was thinking about it the whole time I was in the grocery store. I subbed Pamela's Gluten-free bread for the bun that Kristin used. I used Smucker's Simply Fruit Apricot spread. I toasted the Pamela's bread &then topped half with turkey & cheese & the other half with the spread. I put the open faced sandwiches in the toaster oven until they got hot & melty. Then, I put them together as a sandwich & placed back under the toaster oven to crisp up the outside a bit. The results were outstanding!! What a great combo! Thanks Kristin!
*************************************************************************
A couple of weeks back I was inspired by Erin at Gluten-free Fitness to make the protein pancake that I talked about here (and yes, I know there is a spelling error in the title – I have tried to fix it and I can't). Today I had a great idea for an addition to the protein pancake – pumpkin! Oh yeah, this worked out so well!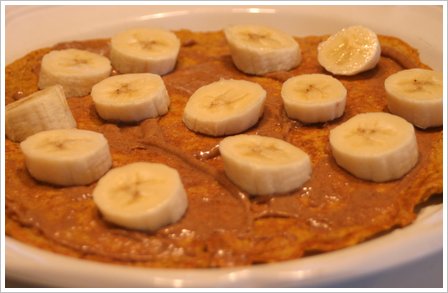 Here is what I did:
1/2 cup oats (gluten-free)
4 egg whites
1/4 cup pumpkin
dash of cinnamon
dash of vanilla
1/2 tsp to 1 tsp sugar or sugar substitute
Blend the above up with an immersion blender or in your blender/food processor. Pour into a preheated frying pan & cook. I topped my pumpkin protein pancake with 1BSP almond butter & a banana. It was great!
Erin posted an article the other day on her protein pancake & made a comment that she will make these the night before & take them on the road when traveling. She just cuts them up & puts them in a container. I may be trying that this week!
***************************************************************************
Posts that you may want to check out if you missed them:
My review of Five Guys Burgers & Fries.
Two more recalls this week: Frontier Natural Products & Herr's Potato Chips.
Organic Jelly Beans for Easter.
Holiday Baking Company lasagna review.
I have some new articles up on Celiac-Disease.com: Gluten-free Ice Cream Sandwiches, Review of Shabtai Gourmet's Raspberry Roll, Review of Little Aussie Bakery's products, and Gluten-free Mexican Dishes.
****************************************************************************
If you haven't found Gluten-free is Life on Facebook yet, please make sure to check us out! You can also find me on Twitter.
Hope you all have a great week.