The number of gluten-free products on the market today is astounding. There is so much more awareness now, making shopping & eating out easier for all of those following the gluten-free diet.
I received some complimentary samples of Jaxn's Twice Baked Potato Stix in the mail. I was excited to try these out because I love French fries and these certainly resembled them. Some information on Jaxn's:
JAXN'S

He Used To Be a Fry Baby, Now He's a Twice-Baked Guy…

Jaxn is a bona fide French fry expert. The potato was his favorite vegetable and he never met a fry he didn't love… and then eat. The road to Jaxn's middle school years was littered with French fries.

But then, all these fries Jaxn was eating started eating at him. He didn't like being heavy. Not in middle school with girls and basketball and girls. That's when his Nana, Geraldine, the master baker of the family, decided to come up with a solution for the grandson she loved.

Jaxn hasn't had to curtail his craving for that big potato taste. He has Nana Geraldine to thank for that. And now, so do you and your family.

Jaxn's Twice-Baked Potato Stix® are made with all natural ingredients and baked, not fried! As a matter of fact, we bake them twice for extra "kick" and goodness.

Bye, Bye Fries
Jaxn's Twice Baked Potato Stix come in 3 flavors: Sea Salt with Cracked Pepper, Sour Cream & Chive and Chipotle Ranch. I received samples of the Sea Salt with Cracked Pepper. I passed on 2 of the 6 bags to Aaron's gluten-free co-workers. Lindsay loved them! I loved the flavor of the potato stix. Perfect to go along side a deli sandwich & Kosher pickle. The potato stix are twice-baked (not fried or puffed), low in saturated fat and contain no trans fat. They are gluten-free, but do contain dairy. The only con I could find with these potato stix is that they seem to be in small pieces, like they were broken up. This obviously doesn't affect the taste at all, I just expected them to be longer, as shown on the outside of the package.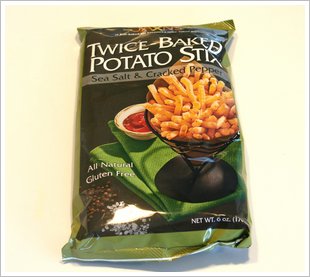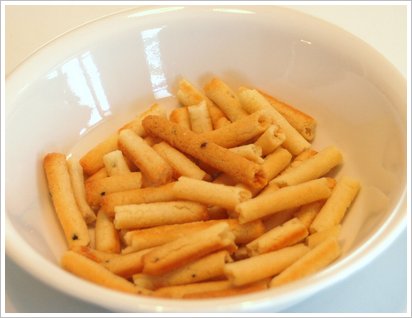 Jaxn's will be offered on Air Tran Airways starting this month, March 2010! How exciting! Jaxn's can be found online here. They are $17.95 for a case of 6 bags.  Have you tried Jaxn's Twice Baked Potato Stix yet? You can also keep up with Jaxn's on Facebook or follow them on Twitter.