This giveaway is brought to you courtesy of MyBlogSpark & Yoplait Greek Yogurt. I thought it would be fun to start this giveaway today and have it run through Sunday, as I will be traveling. Driving long distances makes me cranky, so I may be getting in touch with my "inner goddess" once I get to my sister's house!  MyBlogSpark & Yoplait provided me with the "Nourish Your Inner Goddess" gift pack just in time!
I love Greek yogurt. I have been eating an awful lot of Oikos, Fage & Chobani over the past year. Now, Yoplait has come out with its own line of Greek Yogurt. Here is some information about the new Greek Yogurt from Yoplait:
With 12 grams of protein — twice that found in leading yogurts– new Yoplait Greek nourishes from the inside out. Available in four delicious flavors, Strawberry, Blueberry, Honey Vanilla and Plain, the brand's newest offering has a unique thick and creamy texture with the unmatched taste expected of Yoplait.

To celebrate its new Greek yogurt and to encourage women to nourish their inner goddess, Yoplait has teamed up with actress Izabella Miko, who plays Greek Goddess Athena in the epic adventure new Warner Bros. Pictures' and Legendary Pictures' film "Clash of the Titans," in theatres April 2 in 3D.  Check out the trailer here.
So, do you want to win a Yoplait Greek "Nourish Your Inner Goddess" gift pack, which includes some other great items that will help you relax? Here is a sneak peek of the gift pack (which includes 2 coupons for free Yoplait Greek Yogurt):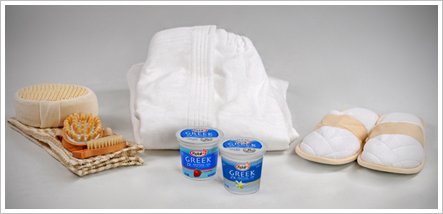 The Yoplait Greek Yogurt even says "gluten-free" right on the side!!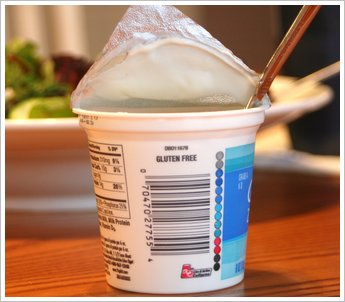 Here is what I did with my Yoplait Greek Yogurt the other night for dinner -as "sour cream" for my baked sweet potato & topped with cinnamon: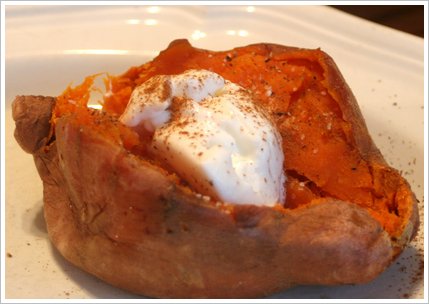 I loved the Yopliat Greek Yogurt! It tastes just as good as the other Greek yogurts I mentioned above and it is less expensive! It is only $.99/cup at our local grocery store. It is creamy & full of flavor.
The details on how to enter the giveaway:
1. Follow me on Twitter if you aren't already and leave a comment telling me that you did = 1 entry.
2. Become a fan of Gluten-free is Life on Facebook and leave a comment telling me that you did = 1 entry.
3. Leave a comment telling me which flavor of the Yoplait Greek Yogurt you would like to try the most = 1 entry.
Good luck!!! The giveway ends at midnight on Sunday, March 21, 2010. Can't wait to try the Yoplait Greek Yogurt? You can get a coupon here. *This coupon offer for a free cup of Yoplait Greek yogurt is not valid in some states, including California, Idaho, Louisiana, Minnesota, Nevada, New Jersey, North Dakota, and Tennessee.