I am not normally one to depend on frozen prepared meals on a regular basis, however, I do like keeping them on hand for crazy schedule days. Having 2 active kids that are both involved in sports makes some of our afternoons & evenings very crazy. I try to plan meals in advance, as seen by my weekly menu plans, but there is always that one time when the inevitable happens and I end up scrambling to toss something together. It is days like these that the frozen meals come in very handy.
Gluten Free Cafe sent me some complimentary coupons to give some of their frozen entrees a try. I picked up the Fettucini Alfredo for Jon, knowing how much he loves it, when we were on spring break in Atlanta. What I really like about Gluten Free Cafe items is that they seem to be available in most mainstream grocery stores.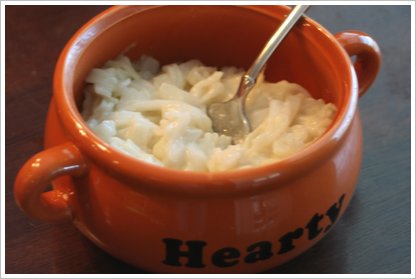 Jon really enjoyed this meal. I added some fruit, veggies & a leftover taco on the side, as he is a growing teenage boy. I tasted it before giving it to him and was impressed with the flavor. The sauce was creamy & the noodles were cooked perfectly, not overcooked.
I have enjoyed another of Gluten Free Cafe's meals a little over a year ago. I had the Pasta Primavera. While the Pasta Primavera was very good, it was not big enough for a meal for me. I added some additional veggies & a salad to complete the meal.
Gluten Free Cafe is part of the Hain Celestial Family. Gluten Free Cafe is certified gluten-free. Some more info on GFC:
Following a gluten-free diet can be a challenge. How can you trust that a particular product is pure and safe to consume? How can you be sure that the manufacturer maintains stringent gluten-free and quality standards? In short, how do you know what you're getting?

We understand your concern, which is why all of our Gluten Free Café products are certified by The Gluten-Free Certification Organization (GFCO), a program of The Gluten Intolerance Group®…and the only gluten-free certification program in existence. The GFCO supervises gluten-free food production according to consistent, stringent, science-based standards to ensure safety and give you the confidence and peace of mind you deserve.

While the GFCO sets the standards for safety and quality, our own Chef Deb is the authority on taste…setting new standards by creating absolutely delicious Gluten Free Café dishes that meet GFCO requirements.

The GFCO certification mark represents quality, purity and integrity…and you'll find it on every Gluten Free Café package.

…and Fortified!
By definition, a gluten-free diet does not include enriched or whole wheat flour, and reliance on other grains can result in certain nutritional deficiencies, plus dietary fiber loss. To help ensure your good health, all Gluten Free Café entrees are fortified according to the FDA's science-based recommendations, with essential B Vitamins (Thiamin, Riboflavin, Niacin, and Folic Acid), Vitamin D, minerals (Calcium and Iron), and Inulin, which provides the benefits of fiber.

Our Commitment to You
In our ongoing quest to satisfy your need (and taste!) for wonderfully delicious gluten-free food, we are expanding our Gluten Free Café offerings with more appetizing choices – all certified gluten-free, and all certified delicious! Look for more mouth-watering entrees…plus luscious desserts. Coming soon to your local grocery store!
And remember, following a gluten-free lifestyle can taste great.

Sincerely,
Your Friends at Gluten Free Café
There are 2 other frozen entrees in the GFC line: Asian Noodles & Lemon Basil Chicken. Have you tried any of the frozen entrees from the Gluten Free Cafe line? If so, which ones and what did you think?