While traveling to Atlanta last month, we stopped to stay the night in Knoxville, TN. We stayed in the Turkey Creek area, right off of 75. While pulling into the hotel after midnight on Thursday, I noticed an Earthfare grocery store right next to the hotel. I made a mental note that I had to stop there before leaving for the remainder of our trip then next day. I have heard so many amazing things about Earthfare, I just knew that I had to go inside.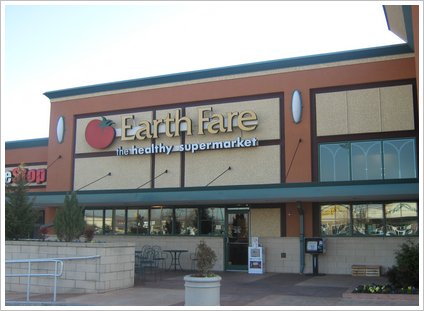 I think I may have walked through the store with my jaw dropped. We have several stores here locally with amazing gluten-free selections, but Earthfare carried a lot of stuff that my stores don't carry! In the refrigerated section of the store there were many single-wrapped desserts that were gluten-free. I know we don't have the brand here, but being the overwhelmed tourist that I am, I didn't write down the name! There were Udi's treats – muffins and bread and all of the standard gluten-free stuff I can find at Raisin Rack or Whole Foods. But, there were a couple of items that I had never seen before – Liz Lovely Cookies and Maria & Ricardo's Tortilla Factory Gluten-free Flour Tortillas. I picked up the tortillas & figured that it wouldn't hurt to bring them on our trip. I wish I had more time to spend in this place! I could have spent hours in there! Earthfare had the largest chocolate section I have ever seen. I may have picked up an 82% Dark Chocolate Schaffenberger bar (I will gush over that in another post). I also picked up some Almond Breeze that was on sale.  You can find a list of gluten-free foods that Earthfare carries here.
I love Earthfare's Food Philosophy:
Earth Fare sells foods that are as close to the ground as it gets. Products with these ingredients/processes will not be sold at Earth Fare:

NO hydrogenated or partially-hydrogenated oils (added trans-fats)
NO high fructose corn syrup
NO artificial colors, flavors, sweeteners & preservatives
NO antibiotics, synthetic growth hormones or animal by-products in the feed (fresh meats & milk)
NO bleached or bromated flour
NO irradiated single source spices, produce or meat
NO animal by-products in pet foods
NO inhumane treatment of the animals providing us with dairy, meat and eggs
Earthfare also has "The Boot List". What is The Boot List? See below:
Earth Fare makes healthy eating fun and easy.
In other stores and restaurants, consumers are bombarded with unhealthy choices that have unhealthy consequences. Not at Earth Fare! We offer products with healthy ingredients. We read the labels so you don't have to.

Simply stated, we offer guilt-free shopping.

Download our list of banned food ingredients, and give unhealthy eating the BOOT!

Take healthy eating one step further by joining our Boot Patrol – a program that helps everyone stay healthy! STEP 1: Download our Boot List. STEP 2: Help us help you!!! If you find a product in Earth Fare that does not meet our food philosophy, we will give you a $50.00 gift card! Simply email us the item's name, brand, UPC number and what you think the banned ingredient is…
I just may take "The Boot List" to my pantry and see how it rates. I have really been on a kick this year of making a point to know what is in my food. I know that I have to read labels to check for gluten, but some of the other stuff in our food is scary and un-necessary. I sure wish we had an Earthfare here, though I am sure my husband is glad there isn't one.  To see if you are lucky enough to have an Earthfare close by, click here.
Along the same topic, has anyone else been watching Jamie Oliver's Food Revolution? Have you signed the petition? If not, please sign it!! I don't know about you, but watching Jamie make those chicken nuggets was very eye opening. If you missed it, you can see it here. This is not the exact version that was shown on Food Revolution, but it is Jamie doing the same experiment with other kids. It really is time for parents and all of America to demand better food in schools and for that matter, everywhere.