When I was in Atlanta over spring break, my sister took me to a Southern Living at Home party. While I have several items from Southern Living at Home and used to get to magazine, I had never been to a party before.
While at the party we played games – I love the purse game! Every time the consultant started to talk about a new topic (glassware, dinnerware, etc), we had to pull out things from our purse that started with that letter. I had a field day! I even had decaf coffee (Starbucks Via) in my purse! I won a Cappuccino Mousse mix that just happens to be gluten-free! I can't wait to make it and review for y'all! (I just had to say "y'all" because I am talking about Southern Living.)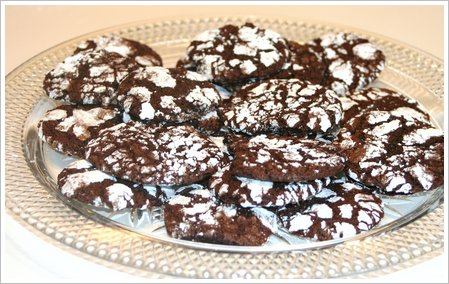 In our Southern Living Catalogs were a couple of recipes. The one that caught my eye was the Cake Mix Cookies. While the recipe wasn't written gluten-free, it was easily converted to be gluten-free.
*Recipe courtesy of Southern Living at Home's Incredible Cookies Cookbook
1 (18.25 ounce) Devil's Food Cake Mix (I used Betty Crocker's Gluten-free, which is less than 18.25 ounces, but worked fine)
1/2 (8 ounce) container Cool Whip, thawed (I used Cool Whip Lite)
1 large egg, lightly beaten
1 cup chopped pecans (optional; I omitted these)
1/2 cup powdered sugar (sifted)
1. Heat oven to 350 degrees
2. Mix 1st 3 ingredients, stirring well (dough will be sticky).
3. Stir in pecans, if desired.
4. Dust hands with powdered sugar and shape dough into 3/4 inch balls.
5. Coat balls with powdered sugar and place 2 inches apart on parchment lined baking sheets
6. Bake for 10 – 12 minutes or until done.
7. Remove to wire racks to cool
Yields: 5 Dozen per original recipe; I got about 3 dozen.
If you don't want chocolate, give another cake flavor a try – lemon, strawberry, carrot. I bet that if you used Betty Crocker's Yellow Cake Mix you could add in lemon extract & that would make some really great cookies!
These cookies turned out awesome! I served them on Easter to rave reviews. The cookies are so chewy!