When we have ham, we usually have a Honeybaked Ham. This Easter, I decided to make my own ham. Aaron picked up a ham from Meijer – it was a Cook's ham. The ham came with a glaze packet along with it. I was a little concerned about gluten in the glaze, so I looked up the status on Cook's website. Here is what I found regarding the glaze:
The manufacturing objective for all Cook's branded meat products is that they be gluten-free. The fresh meat Cook's uses as it's primary raw material is naturally free of glutens, however, other ingredients are also necessary in the production of all Cook's hams and other processed meat products. Since these outside ingredients and spices represent a potential source for the introduction of gluten, Cook's specifies that these ingredients must be gluten-free. Despite this, Cook's suppliers are able to alter their spice formulations from time to time, without Cook's prior knowledge, yet still comply with federal USDA labeling requirements. Any change in an individual ingredient or its source, however, creates the possibility of gluten being unwittingly introduced. For this reason, Cook's cannot absolutely guarantee the gluten-free status of all our vendor's supplies and, therefore, cannot guarantee that all Cook's products will be 100% free of gluten.
Due to the complexity of the statement above, I decided to make my own glaze. I was certain the ham itself was fine, it was just the glaze packet that was in question.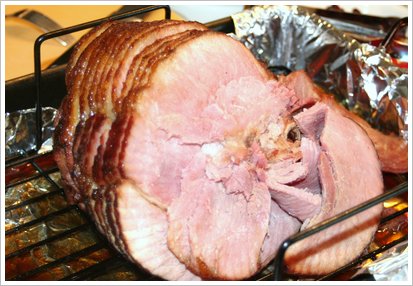 Ingredients for Glaze (I had an 8 lb ham):
12 oz of Coca-Cola
2 1/4 cups brown sugar
1/4 to 1/2 cup orange juice
1 – 2 tsps ground cinnamon
1/2 – 1 tsp ground cloves
*spices may be adjusted to taste
1. Mix all the ingredients for the glaze in a small saucepan over medium heat until sugar is melted & the ingredients are blended. The glaze should be syrupy thick. If it is too thin or too runny, add more brown sugar. Set aside for the moment.
2. Pour glaze over the top of the ham. Bake according to the directions on your ham. Mine called for a 275 degree oven for roughly 2 hours for the weight of my ham. Tent some foil over the ham. Baste the ham every 20 – 30 minutes or so.
3. Enjoy!
We served our ham along side of rosemary roasted potatoes (Aaron did these on the stove & they turned out great!), steamed carrots & broccoli, sesame sautéed green beans & salad.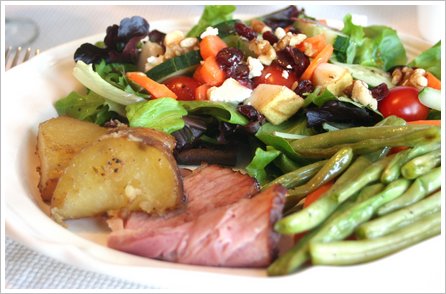 The ham turned out awesome! I got the idea for the Coca-Cola glaze from an online friend – she was spot on!! I did reference allrecipes.com for some additional ideas & spices. I will be using this recipe again for sure!