Imagine my surprise when I received a package from the awesome folks at Live Gluten Freely yesterday! The package I received was pretty much what you see here in the product boxes that can be ordered from the site & sent to a newly diagnosed friend or family member or as a pick-me-up.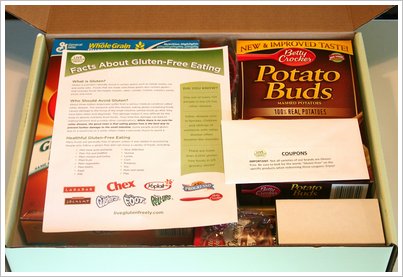 I love the information sheet that was included in the box. The sheet provides all kinds of tips on starting the gluten-free diet, what to eat & what to avoid.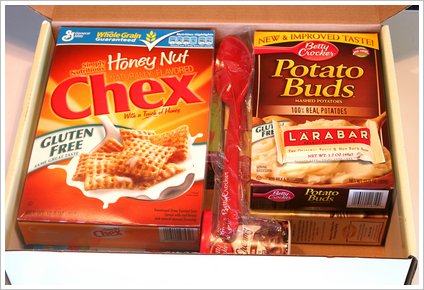 You all know about my love of Chex cereals, right? I was just thinking the other day how I needed to get some Honey Nut and here they showed up on my door step! The PB Cookie Lara Bar is one of my favorites, too!! And, while I was making fun of instant mashed potatoes on Facebook yesterday, I have been known to use these to thicken sauces or soups before when cooking gluten-free. It has been a long time since I have served them as potatoes, though. They also work very well as breading for chicken. It is nice to have them on hand.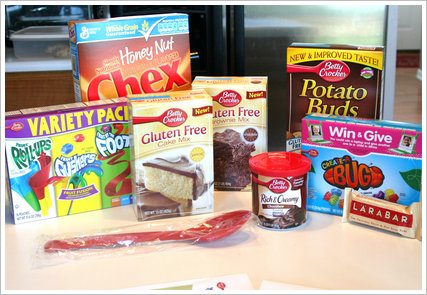 See that cake mix & frosting? That will be turned into cupcakes for the boy's 14th b-day party sleep over. Easy & great tasting. $10 says none of the kids know they are gluten-free unless they pick up on the fact that Jon is eating them. 😉 Hannah has already broken into the Fruit by the Foot for her snack today. She doesn't get fruit snacks often, so she was in heaven.
Sending out a huge THANK YOU to General Mills & Live Gluten Freely for this great array of gluten-free foods. I am surprised I haven't broken into that frosting yet! 😉
If you want to order a box like this, go here and follow the directions. The cost is $24.99 + $9.99 shipping & handling.