I was the very fortunate recipient of some great complimentary products from Crave Bakery. Crave Bakery is located in San Francisco and makes gluten-free and casein-free products. Cameo Edwards started Crave Bakery in 2003.
Cameo Edwards started Crave, a wholesale San Francisco bakery, in 2003. The year prior had been a frustrating one of trying to determine the source of her physical ailments. At last, she discovered the culprit to be gluten. Looking at the options on the market, she was left craving all the yummy things she used to be able to eat. Even though her baking experience was limited, Cameo was determined to create delicious alternative desserts for herself that were wheat-free, gluten-free and casein-free (or milk-free). After much experimentation, the perfect brownie was born. And subsequently, the idea for sharing this gem with the public. With a delicious brownie recipe in hand and lots of passion, Cameo approached retail shops and the rest is history.

Crave's philosophy is based on choosing simple, high-quality and organic ingredients. You also won't find any trans fat or preservatives in our goodies. We have taken the time to carefully research all of our ingredient sources and feel confident about their practices. Supporting small, local producers and family-owned operations as well as choosing ingredients that are animal conscious, are priorities for us. Therefore, our eggs come from free-range, active, happy Petaluma chickens. Crave products are baked in small batches and delivered immediately because we are devoted to the flavor and integrity of our end creations.
I received a couple of Monster Cookies & Dark Chocolate Brownies. Jon immediately fell in love with the Monster Cookies. I was lucky to get a bite out of one. Threatening him with no more gluten-free goodie samples did the trick. 😉 I had to agree, they were quite tasty. Good texture, too.
Jon didn't care as much for the Dark Chocolate Brownies, but that was fine by me! Him not liking them as much meant I could savor these all by my lonesome & not have to worry about him scarfing them down before I turned around! I loved the rich dark chocolate flavor & the dense texture. I am a fudgy brownie girl; no cake-like brownies for me.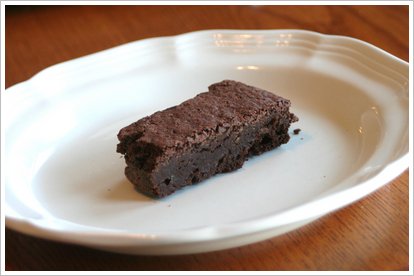 You can even see how dense & fudgy this brownie was. Is fudgy really even a word? It is in my book. 😀
Want to find some Crave Bakery products? Click here to see if they are in your area. Crave Bakery also makes custom gluten-free, dairy-free wedding cakes & cupcakes. Click here for more information. You can also order Crave Bakery Products online. All orders over $66 ship for free!
Thanks Todd & Crave Bakery for the wonderful samples!! We really enjoyed them.