Dessert for Jon's party was originally going to be Pistachio Cheesecake. That went out the window when I realized I was missing some key ingredients. I had made some Betty Crocker Gluten-free Cupcakes earlier, so I knew that would serve as part of the dessert.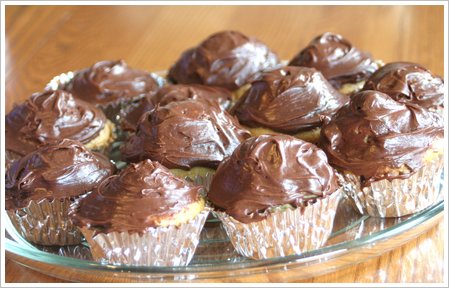 I used the yellow cake mix & rich & creamy chocolate frosting that Live Gluten Freely sent me earlier last week. I knew the cupcakes wouldn't be enough, so I set out to make more goodies. This is what I came up with: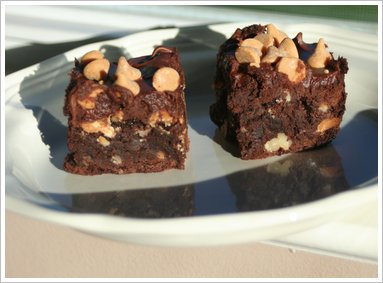 Peanut Butter Chip Brownies. Yes, they were freakin' amazing! The picture can't even begin to show the scrumptiousness that was these brownies. The recipe will be up on Celiac-Disease.com later this week. I will make sure to let you know when.
After the festivities of Jon's party died down we went to watch his rec hockey game. Jon scored a hat trick for his birthday and the game winning goal, to boot! Go JON! After the game, the boys headed home and my mom and me headed out for some girly time. We went out with the intention of just having a glass of wine, but after having eaten "dinner" at 5 PM, we were a touch on the hungry side. We tried Marcella's, known for it's great atmosphere & gluten-free menu, but there was a 20-30 minute wait to just sit in the bar! You know you are getting old when you don't go out on the weekends anymore & find that you may actually have to wait to eat at a restaurant! That doesn't typically happen when you eat at 5 or 5:30! HA!
We decided that Brio would work and I was sure that I could find something that was gluten-free there. Brio doesn't have a printed gluten-free menu, but the chef was more than happy to let me know if my choices were gluten-free. We ended up splitting the Wood Grilled Salmon Salad (sans crispy shoestring potatoes). I wish I would have had my camera with me to show you how big half of this salad was! It was a very decent size for being half! It was the perfect light 2nd dinner! I had a wonderful glass of Malbec to go along with my salad, while my mom enjoyed a glass of chardonnay. We really enjoyed each other's company Saturday night. We don't get to do this type of thing too often, as the kids are usually with me. We finished the night off with a Mini Caramel Crème Brulee. The cutest little dessert that came in an espresso cup! It was the perfect size. I love crème brulee, but hate that most places serve the dessert in a very large dish and I feel like I have to finish it all. This was no problem to finish & didn't leave me feeling like I needed to unbutton my jeans. 🙂 Want to find a Brio close to you? Click here for locations.
I love my mom!! I love how close we have grown over the years. I wish she lived closer.