I received some complimentary samples from Amazing Grass a few weeks back & have been working on sampling them.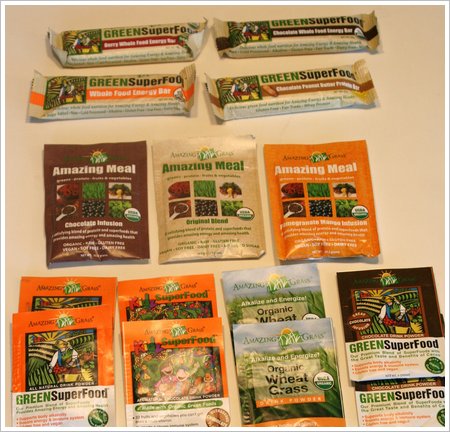 A little about Amazing Grass:
Our Mission
To help people lead healthier more active lives by achieving their full potential through better nutrition. We strive to educate the world by spreading the word about the amazing benefits of cereal grasses. Amazing Grass will spare no resources or expense to produce nutritionally superior products with the highest quality organic cereal grasses available anywhere in the world.
Our Vision
To enhance peoples lives by connecting health, nutrition, and the environment.
Our Story
How we got started….
We started out of our garage (well it was really a dining room table) in August of 2002 in San Francisco, California. We were two guys with a desire to build a 'grass' roots business that aligned with our passion for the outdoors and a healthy lifestyle.
We had each spent 7 years at large telecom companies and met 4 years ago at a start-up telecom company that was trying to break the bandwidth bottleneck, but ended up going broke instead. Working in a start up environment, we witnessed first hand the effect 17 hour work days, lack of exercise and poor eating habits had on many of our colleagues. Constantly hearing people say "I'm exhausted", "I'm sick" and "I need to get in better shape" seemed to be directly related to stress and diet.

Todd noticed that Brandon seemed immune from the common cold and the contagious mid-afternoon yawn. Brandon's thumb is the furthest shade from green, but luckily his uncle has continued to run the family dehydrating business that his Grandfather started over 50 years ago. Brandon swore the wheat grass he'd been taking gave him more energy, a stronger immune system and an overall healthier life. He gave some to Todd along with a great book by Ron Seibel called Cereal Grass, What's in it for you. Within weeks, Todd was a big believer…he developed increased energy throughout the day and saw his need for sleep decrease. In fact, Todd has eluded everything including the common cold since taking wheat grass. Brandon had a long list of friends that were hooked on wheat grass and would often call or stop by when they ran out. His freezer was being raided on a daily basis. (We know this sounds like a scene from Cops, but we swear it was just wheat grass.)

With the help of a college marketing class at Cal Poly SLO, their wives, families and friends, Todd and Brandon started Amazing Grass.

It is our passion to educate the world about the benefits of cereal grass, green foods and the improved quality of life from eating healthy. It is our goal to always listen to our customers and constantly improve what we do. We pledge to produce the healthiest products that offer real benefits at prices everyone can afford. It's an amazing adventure to grow this business to reflect our dreams, passions and beliefs.

Today, Amazing Grass offers the most potent green vegetables in a convenient way that aligns with our hectic lifestyles. We take great pleasure in hearing your stories about how Amazing Grass has changed your life and encourage our new friends to write us with their stories. One timeless phrase will sum up many of our responses…"You are what you eat." Eat Grass…Get Healthy!!!

Brandon and Todd
Jon had the KidszSuperFood Chocolate and really liked it. I should have kept the packet hidden, though, because he read it and vowed to never have another because he saw all the healthy stuff in it! I explained that he should go by the taste, much like "not judging a book by its cover".
The Chocolate Whole Foods Energy Bar is really good. I loved the flavor & texture.
I made a smoothie with the Amazing Meal Chocolate Infusion. Into the smoothie I put:
Amazing Meal Chocolate Infusion packet
1/2 banana
1 cup Almond Dream
Spinach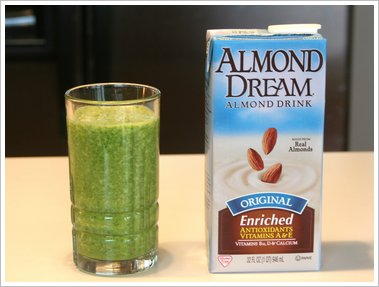 I loved the flavor of the smoothie, but couldn't get past the texture. I had never had a "green monster" up until that point. Perhaps I needed to blend it more? Maybe I am just not cut out for green smoothies or monsters? All the cool bloggers drink them, so I figured they had to be good. LOL! 😉
BTW, this was my first time trying Almond Dream and it was good, but it was not my beloved Almond Breeze (I love the unsweetened vanilla).
Want to find Amazing Grass products? Click here for retail locations or you can shop online.
Now for the fun part! Want to win some Amazing Grass goodies? Here is what the winner will win:
3 Green SuperFood Bars (Whole Food, Chocolate Peanut Butter and Berry Whole Food)
2 Organic Wheat Grass Drink Powders (yes, this is gluten-free)
2 Green SuperFood Drink Powders
2 Green SuperFood Drink Powders w/ Goji & Acai infusions – Berry Flavor
1 Green SuperFood Chocolate Drink Powder
1 Kidz SuperFood Drink Powder – Wild Berry Flavor
2 Amazing Meal packets – Original & Pomegranate Mango Infusion
Here are the rules for this giveaway:
1. Leave a comment telling me which Amazing Grass product you would most like to try = 1 entry
2. Become a fan (or "like") Gluten-free is Life on Facebook and leave me a comment telling me you did= 1 entry
3. Follow me on Twitter and leave me a comment telling me you did = 1 entry
4. Tweet about this giveaway and make sure to use @kbouldin in your tweet so I can count it = 1 entry
5. Blog about this giveaway & link back. Leave me a comment telling me you did = 1 entry.
You can earn up to 5 entries by using the methods outlined above. Giveaway will run from now until Friday at midnight. The winner will be announced Saturday. I also have some bonus samples & gluten-free goodies that I will toss in for the winner! Good luck!