I was so excited to learn that Rusty Bucket was now offering a gluten-free menu!  I couldn't wait to go in and give them a try.  I was especially excited about the 2 different gluten-free pasta dishes on the menu.
A couple of Saturdays ago, I took the kids and met up with my in-laws for dinner at RB.  I ordered the Chicken Pesto Penne and a house salad; Jon ordered buttered penne and grilled chicken and my mother-in-law ordered the Chicken Penne.  My mother-in-law doesn't have Celiac, but chooses to eat gluten-free most of the time.  The restaurant was really busy, as it was a Saturday night.  Our salads came out incorrectly and had to be sent back, though it had nothing to do with gluten.  The food took a very long time to come out.  I snapped a few pictures and then we dove in.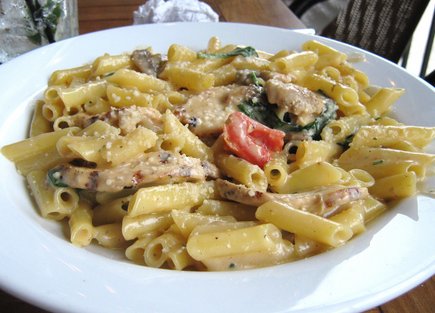 The meals looked great, but they were far too salty.  After speaking with management, it was determined that the pasta water was over-salted.  Apparently the gluten-free pasta is prepared per order, while the rest of the pasta is made in advance.  After waiting so long, we opted not to have the dishes re-made, but did receive a gift card to go back another time.
We went back later the following week and the restaurant was less busy.  My mother-in-law ordered the Pesto Chicken Penne and Jon ordered his buttered penne & chicken breast again.  I got the Blackened Salmon Salad.  The food still took a while, especially considering  there were not many people there.  When we finally got our food, it was cold.  🙁  My salad was very good, and as a matter of fact, it wasn't supposed to be piping hot, but my mother-in-law's dish and Jon's, too, were sent back to be re-made.  A side note – Hannah's grilled cheese sandwich was even cold.  The regional manager was there and I was able to speak with him.  I told him that I was there to review the gluten-free menu and that I want to help get the word out so that the menu is successful.  I explained that I knew they were trying to work out some kinks and only had  the menu in place for a couple of weeks, I know they are all still getting used to it.  However, slow service is not something that has anything to do with the gluten-free menu.  Our meal was taken care of and we were given more gift cards.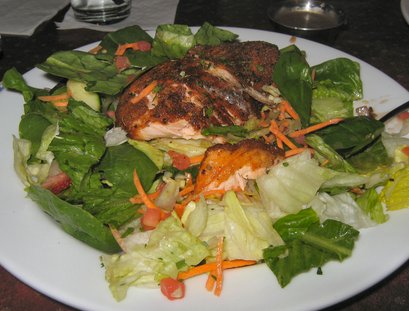 Well, the third time is the charm, right?  Almost.  My Mom and I went back last night for some "girl time".  I ordered the Blackened Salmon with roasted carrots & broccoli.  My mom ordered the Tilapia with Black Bean Salsa, broccoli & tomato/cucumber salad off of the gluten-free menu.  Our food came out steaming hot (yay!), however, my salmon was not blackened, as ordered, and my mom did not get her broccoli, as ordered.  Our server did offer to re-make my salmon, but I declined.  I wanted to enjoy my food with my mom and not wait for another meal.  The salmon was cooked perfectly and was seasoned just right.  I was very impressed with this dish.  My mom's tilapia was also cooked perfectly & seasoned well.  The black bean salsa was amazing, as was the tomato/cucumber salad (with feta cheese).  I was a little concerned that our server didn't seem to have a good grasp of the meaning of gluten-free.  I had asked if the black bean salsa had onions in it and she told me that nothing on the GF menu has onions, implying that onions had gluten.  I explained that onions have nothing to do with gluten (and wanted to point out that the salads on the GF menu clearly state "onions").  She stood by her "nothing on the GF menu has onion" statement.  I left it at that.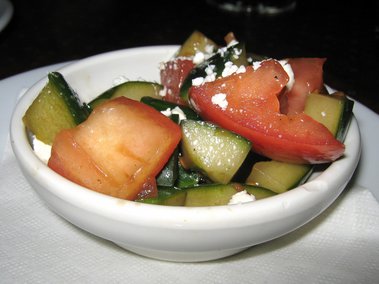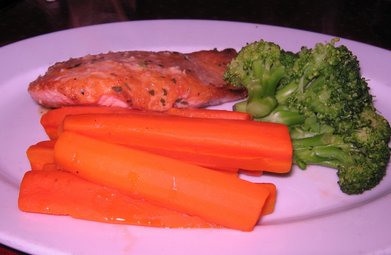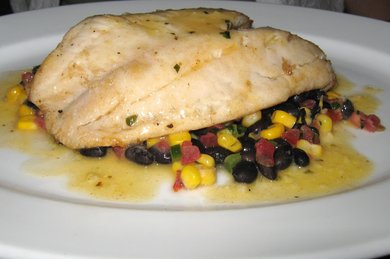 After my three experiences at the Rusty Bucket, I have to conclude that there is still some training and fine tuning that needs to be done on the gluten-free menu and perhaps service in general.  I was told by the regional manager that the staff underwent training before the menu rolled out. (He told me for how long, but I can't recall right now).  Clearly the server we had last night either did not attend or was confused and could benefit from more training.  The kitchen staff seems to be inconsistent even when the restaurant is not busy.  While there is a new menu in place that can add confusion, the mistakes & issues we experienced did not have anything to do with getting a gluten-filled meal instead of a gluten-free meal. It was over-salted food, cold food and food that was not made to order.
I did not write a review after my first or second experiences at Rusty Bucket because I really wanted to write a spectacular review for them.  My goal is to help spread the word about restaurants that can safely feed those of us who have to follow a gluten-free diet, not write a review like this.  Will I go back to Rusty Bucket?  Probably.  I can't say that I would add it to my "favorites list" at this point, but I would not put it on my "never go there again" list, either.