I received a wonderful package full of gluten-free products to sample the other day courtesy of MamboSprouts. Included in this package were crackers made by Crunchmaster.
Crunchmaster Crackers are crunchy oven-baked multi-seed crackers. Unfortunately I can not eat these due to the sesame seeds, but that didn't stop my family from sampling the crackers. I served the crackers along side of some Trader Joe's Hummus at our Mother's Day party on Saturday. They were a huge hit! Aaron refused to try them at first and then apparently snuck over to try them when I wasn't looking (per my Mom – thanks Mom!). He loved them. He was quick to confiscate the unopened packages & claim them for himself. Sorry Lindsey, Aaron took your crackers. A side note – I will be introducing you all to Lindsey later this week or early next week. Lindsey works with Aaron and has been gluten-free for the past 9 -12 months. She is one of my samplers and seems to be enjoying the "job". I did manage to take a small bite of the cracker and really wish that I could eat them! Darn sesame seed sensitivity! They reminded me of "normal" crackers. Crackers like the fancy seeded crackers that you would serve with brie or pate.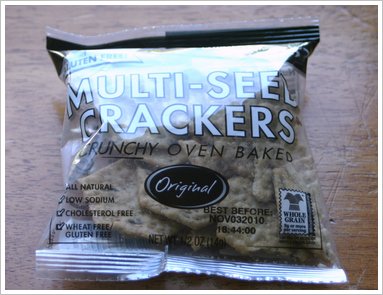 More from Crunchmaster:
Our Story

It's a long way from the rice fields that surround Niigata along the coast of northern Japan, where the art of handcrafting, aging, baking (on open grills) and perfecting rice crackers has long been passed down from generation to generation.
At Crunchmaster, we're committed to fusing the tradition of the East with the tempting taste sensations of the West to give you authentic, all natural snacks that not only taste great, but are better for you.
Using our exclusive, proprietary rice baking techniques, we craft our baked rice crackers in the "Usuyaki" style (that's Japanese for thin and flat) tradition, using pure, all natural ingredients. The result? Great tasting crackers with an incredible crunch!
Crunchmaster is brought to you by your friends at TH Foods, Inc. For more information on our company, visit www.thfoods.com.

Grown for You

Our crackers are made in the USA at our baking facility in Loves Park, IL using only the highest quality ingredients.
We use only pure, GMO-free, California grown rice. The sesame seeds used in our products are grown in the U.S. with a special hybrid that was developed to fit the climate in Texas and Oklahoma. Our quinoa and amaranth seeds are sourced from the Andean region in South America. And our flax seeds are grown in the plains of the upper Midwest and Canada.
Each of these seeds are known for their unique, nutritional benefits. Quinoa is sometimes called the "mother of all grains," since it contains a balanced set of essential amino acids for humans, making it an unusually complete food. Several studies have shown that amaranth seed, like oats, may be of benefit for those with hypertension and cardiovascular disease. Studies have shown that among other benefits, the sesamin in sesame can lower total and LDL cholesterol and raise tocopherol levels. Flax seeds contain high levels of lignans and Omega-3 fatty acids and may help lower your cholesterol levels.
Crunchmaster Crackers come in 3 different types – multi-seed, multi-grain and rice. All 3 are certified gluten-free, cholesterol free, low in saturated fat, low sodium and all-natural. There is a $1 off coupon at the bottom left of this screen on the Crunchmaster site. To find Crunchmaster Crackers you can enter your zip code on the same site where you find the coupon or you can order from the online store.
We thoroughly enjoyed the Crunchmaster Crackers. Thank you MamboSprouts & Crunchmaster for the complimentary samples.