As mentioned in my review on Crunchmaster Crackers, I received some complimentary samples courtesy of Mambo Sprouts to review for Celiac Awareness month. Glutino Strawberry Breakfast Bars were next on my list to sample.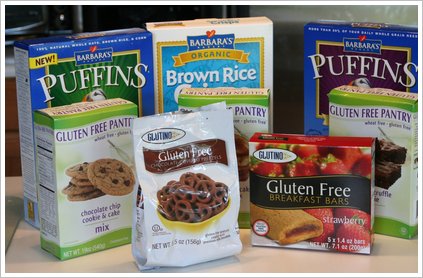 I had tried the breakfast bars a couple years back and was not impressed with them in the least. I think I may have had a hard time even finishing the Blueberry Breakfast Bar. However, there have been some major improvements to this bar. I was suspired when I first bit into this bar. The bar was reminiscent of a Nutri-Grain cereal bar! The outside was soft, thought not as soft as a gluten-filled cereal bar. The filling was flavorful and does not contain HFCS (high fructose corn syrup), as Nutri-Grain bars do. Jon and I fought over the remaining bars in the box. Notice I used the past tense. They are all gone 🙁 These were a huge hit! The ingredient list:
Strawberry filling (sugar, glucose, apple powder [calcium stearate], white grape juice concentrate, water, strawberries, glycerine, canola oil, citric acid, pectin, sodium citrate, fruit and vegetable extract for colour, calcium chloride, flavour), chick pea flour, corn flour, fructose, pear juice concentrate, raisin paste, inulin, canola oil, tapioca starch, white rice flour, water, cinnamon, sodium bicarbonate.
If there was a negative about these bars, it would be the price. $6.19/box of 5 bars is pricey. However, when compared to purchasing individual Lara Bars (Usually at least $1.29+/each), the cost is comparable. Each bar contains 160 calories, 3 grams of fat, 3 grams of fiber and 3 grams of protein. Glutino Strawberry Breakfast Bars can be found in grocery stores around the US or online here.