As most of you are aware, I ran my first full marathon on Sunday, May 16, 2010 in Cleveland. I had run 2 half marathons previously, with my first one being in October 2009. I have had so many emotions from the time I crossed the starting line, I can't even begin to go through them all here. I went from "Yeah, I am rocking this race!" to "OMG, what the heck was I thinking 18 weeks ago when I started this journey?". I encountered obstacles that I didn't realize I would face on this day. I fought through a foot injury and overcame that only to be faced with a stomach and intestinal issue during the race. I have learned so much over the past 18 weeks and know that this experience has made me stronger.
The morning started out beautifully. I got up at 4:00 AM and ate an Udi's Gluten-Free Bagel with peanut butter & fruit spread. I took my allergy medicine & started to prepare. I got dressed & geared up. I was ready to kick some marathon butt!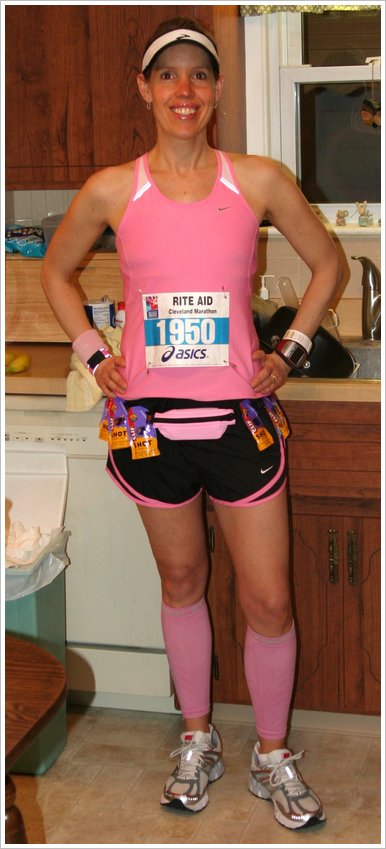 I had my Clif Shots (gluten-free) and water. I could not drink the PowerAde on the course, as it is not gluten-free. That was fine by me, as I did not train drinking any sports drink other than Vita Coco coconut water after I finished to replenish electrolytes. I wore my Zensah compression sleeves that I have worn on every run since I bought them in January. Seriously, if you have shin or calf issues, go buy these today. I got a massage yesterday & the massage therapist was amazed at how good of shape my calves were in after running a marathon the day before. My quads, hamstrings & feet were not so lucky, but Zensah has no control over that! 😉 LOL!
The weather was around 50, so I just tossed a sweatshirt on to head down to the start. Before starting the race, I had the opportunity to meet Sam from Operation Jack. Sam is the father of 3 kids. Sam's middle child, Jack, has autism. Jack is 6 and a half and was diagnosed just after he turned 3. Sam is running 60 marathons this year in an effort to generate attention that will raise funds and awareness for Train 4 Autism. Truly an inspirational guy. Sam rocked the marathon & finished in 3:08:32! WTG Sam!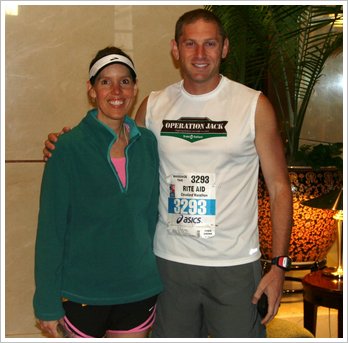 Getting to the starting line proved to be tough. I had stopped to use the rest room in the Marriott at about 6:45 AM to hopefully avoid using the porta-pots on the course (little did I know….). There was a wall of people, half spectators & half runners trying to get to the course. There were fences blocking off the road to keep spectators back, but they were keeping the runners off the course! Someone must have moved them because all of a sudden things opened up and we were on the road. I hopped in right by the 3:50 pacer. I had no intention of running that pace, but figured it would be better than trying to work my way back further.
Miles 1-2 flew by. We ran through the city and headed west.
Miles 2-3 included a huge hill. Seriously, I thought this hill would never end. It didn't slow me down too much at this point in time, but I was trying not to exert myself too much, as I wanted to conserve my energy.
Miles 3-11 went relatively smoothly. Not having any pain really, unless I was on an uneven surface and then my plantar fasciitis in my right foot was not happy with me. I was taking Clif Shots every 3 miles, as recommended by Clif on the pace band for a 4:15 finish. I was doing well and was on pace to finish at 4:12 at this point and had planned on picking up the pace after the half point or once I was closer to 20.
Miles 11-13.1 included that hill again. It seemed a little longer this time, though I am sure that had a lot to do with the fact that I now had 10 miles under my belt! HA! I was feeling strong at this point.
Miles 13.1 – 17 sucked. I wasn't feeling bad, but there was a stong head wind along the lake and we were running right there. This slowed me down considerably. I couldn't settle into a pace because the wind was really strong. The view was gorgeous, but I really didn't have a chance to appreciate it at this point. My Mom asked me later on if I saw the Rock & Roll Hall of Fame and many other things and I didn't because I was just focusing on the run.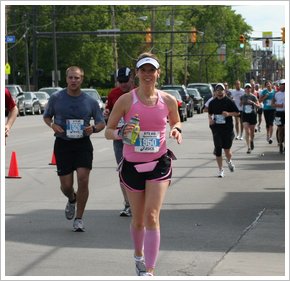 Miles 18 – 22 were not fun. My intestines were acting up and I thought I was going to puke. I had taken my last Clif Shot at mile 15 (I had 5 total) and could not do anymore. I had to find a porta-pot twice and almost didn't make it once. I don't think I have ever considered going in the woods before, but I did that day. You gotta do what you gotta do, right? LOL! I am glad I can laugh about it now. These miles were so long b/c I was constantly looking for a bathroom. I continued to drink small amounts of water, but that is all I could handle. Taking in any more Clif Shots would have made me puke and I was worried about losing fluids. I was passed by the 4:15 pace group.
Miles 22 -26.5 (long course – thanks Cleveland) weren't much better, but I had some support. I saw my aunt and step dad at mile 22 and about had a breakdown. I was so frustrated that my legs & feet were fine at this point but my stomach & intestines were not cooperating. I felt so nauseated. In hindsight I should have just puked & I probably would have felt somewhat better. My aunt walked with me for a block or so and then 2 girls came up, cheered me on and asked me to run with them. Debbie & Colleen were their names and I am forever grateful. Debbie has run 57 marathons!!! Colleen was running her first. I ran slowly with them for a mile or 2 and then had to walk some more. I did a lot of walk/running at this point. I was passed by the 4:30 pace group and started to get teary eyed. Then I remembered how far I had come. I was running a marathon and I was going to finish and my time did not matter. I am so darn competitive with myself! I needed to let go of that and concentrate on the one task at hand – finishing. My Garmin beeped & said we hit 26.2, yet we were not at the finish! NOT FAIR!!! LOL! I ran across that finish line with my head held high! I did it! I completed a marathon!!! My time was 4:37:41.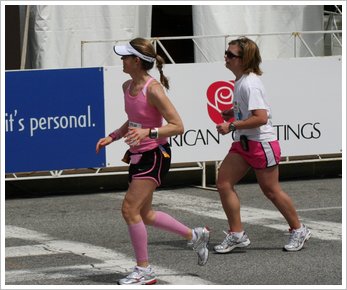 Looking back I am pleased with my time given all of the obstacles that I faced. Just coming off of an injury in the past 3 weeks and then the head winds and then the stomach and intestines having a mind of their own and I still finished under 4:45. I know that I can do whatever I put my mind to and the obstacles that I face along the way will only make me stronger and smarter. I am now armed with more knowledge to carry into my next marathon that I hope to run in October.
Getting my feet taped after the race. Both were killing me at this point. I grabbed some potato chips (gluten-free, THANK GOD) and my Vita Coco and plopped down in this chair as soon as I saw the "Foot Care Tent" sign.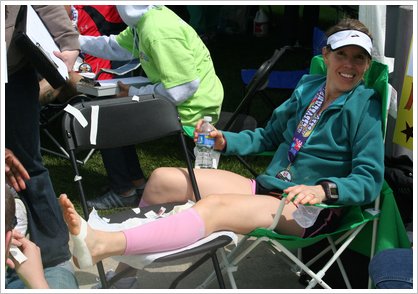 Yesterday was a day of rest. I got out of bed and couldn't really walk. No surprise there, right? LOL! I knew I was going to hurt, but I had no idea. I had run 20 miles and not felt this bad. I guess that extra 6.5 really did a number on me! I scheduled a massage and made an appointment with my sports dr to check out my foot. I knew that my foot would hurt, however I was having some pain in other areas of the same foot and wanted to make sure that I didn't have a new injury. The doctor said that he sees this pain a lot in marathoners and that I should just take it really easy this week – no exercise, ice aggressively and stretch. If it is not better by Monday than I have to go back in. It could be a tiny stress fracture, but he said the majority of the cases like this he sees end up going away on their own. I am already noticing a small improvement over yesterday, so let's hope it keeps up.
Sign that my mom & sister made to motivate me. I have been a Bon Jovi fan since I was a teen, so they used "She's OUR Little Runaway" for the one side: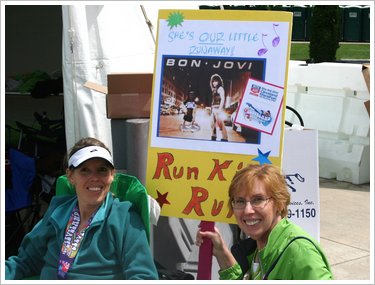 And the flip side: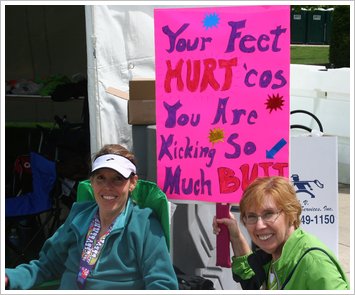 I want to thank everyone for all of the amazing support. The people in my life who made this possible, I couldn't have done it without you!! The friends I have on Twitter, Facebook, Daily Mile have been wonderful as well. I can never thank you all enough. 🙂