I have done a few other posts on gluten-free travel over the past 2 years (yikes, it will be 2 years since I started my blog in August!). I always find that I am learning something new, so I have to make sure to pass it all along to you guys.
There are so many safe places to eat now that bringing a ton of food along on the road is really not necessary. I did bring my stash of Udi's bagels & bread, though, as I was not sure I could find my beloved carb-loaded delicacies in North Carolina.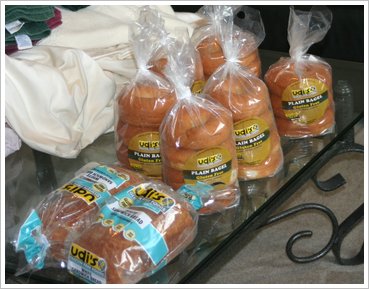 Yes, I did bring 6 packages of bagels (well, 1 is missing out of one package) and 2 loaves of bread with us. I may end up taking some of it home with us, but I would rather have it then not.
Other than the bread/bagels, the food that I brought, I brought because it was already open and we don't eat out a lot on vacation. We cook big beach house meals and drink cold cocktails. It is much cheaper this way and we have a lot of fun.
To find gluten-free restaurants, I either google "gluten-free restaurants in…." or I will check to see if there is a support group in the area and try to contact the group for some ideas. I used to prefer not to eat at chain restaurants, but now I tend to choose those more often than not to be safe, unless I get a good recommendation for a non-chain restaurant in the area. As always, I chat with the manager & servers to ensure safety & to see if they grasp the concept of gluten-free. Nothing like getting the blank stare or the "oh, yeah, you can't have sugar" comments. An example of a place that would most likely not be safe to eat at: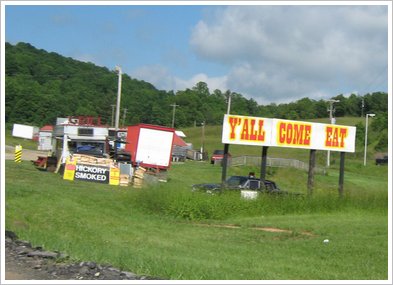 Now, while the food may taste just fine, I am pretty certain that it isn't gluten-free.
Here is my core list of standbys (all links are in the right hand margin):
Panera
Outback
Bonefish
Chipotle
Moe's
Pei Wei
P.F. Chang's
First Watch
Cold Stone
Chick-fil-A
Uno's Chicago Grill
Wendy's
That being said, there are many places that are willing to accommodate you, you just have to ask & make your needs known.
Another good reason to get in contact with the local support group is to find health food stores or mainstream grocery stores in the area that carry gluten-free food. I don't usually seek out the health food stores because I really have found that you can find enough gluten-free food in mainstream grocery stores these days. Even if you have to sub brown rice for pasta or skip the bread, there are ways to tweak any meal. If you need a sub for bread, try corn tortillas. They are cheap & work wonders. Amy's Meals are easy to find and have many gluten-free varieties. Blue Diamond Nut Crackers are also very easy to find. Make breading, snacks, "Lunchables", etc using these. They are also inexpensive when it comes to gluten-free crackers. Wrap deli meat around string cheese, top a sweet potato with baked beans and have a salad, spread tortilla chips over a baking sheet, top with refried or black beans, cheese & tomato & toss in the oven – easy, gluten-free food.
Keep this in mind: We eat to live, not live to eat. Make your time on the road about family & friends, not about food. Enjoy conversation and activities. Enjoy yourself. 🙂