Yesterday I spent the day with my kids hanging out in Myrtle Beach, SC. We scoped out some places online to eat gluten-free and settled on Margaritaville. Talk about a cool place!! We have eaten many times at the Cheeseburger in Paradise in Myrtle Beach, but never Margaritaville. I can't even begin to tell you how much we enjoyed our lunch. I had heard that Margaritaville may have gluten-free buns, so that automatically put it at the top of my list. I have been gluten-free for over 4 years and have never had a gluten-free bun while dining out. Yes, I eat plenty of bread, bagels & such at home, but never in a restaurant.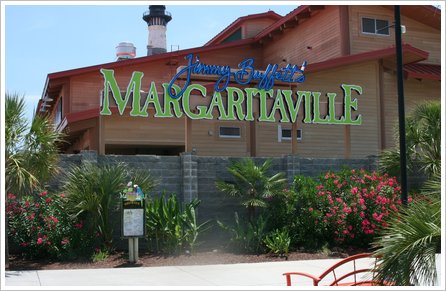 The kids asked to eat outside and I completely agreed. We were seated at a table right on the water.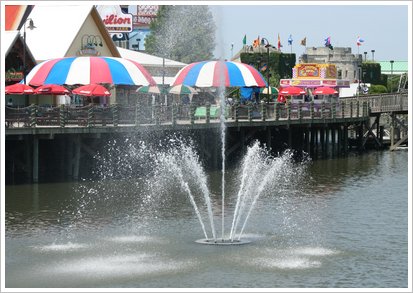 There seemed to be some other hungry kiddies around, too.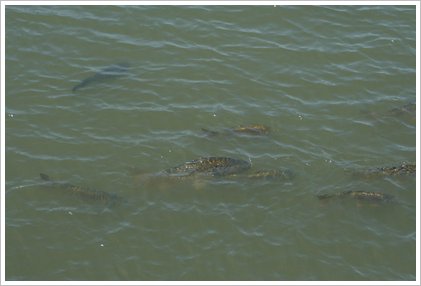 A little girl was happily sharing her French fries with these guys. 🙂
When I asked about the gluten-free buns and was told that they did indeed have them, I about fainted right there. I couldn't wipe the smile off of my face. Jon and I then proceeded to drool over the gluten-free menu.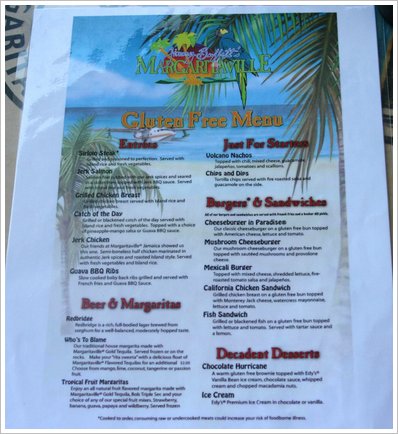 Talk about choices!!! I love that I am having a harder time picking out what I want to eat these days at more & more restaurants. I remember many times having only 1 or 2, if I was lucky, gluten-free options when dining out. This place was heaven on earth. You know I ordered one of these…
I am happy to report that the Redbridge was only $4.25. I have seen them marked as high as $6 for 1 beer in some places.
We ended up ordering the Volcano Nachos to start. The chips are fried in a dedicated fryer, as are the French fries. I had also asked about onions in my meal, so the kitchen automatically put the chili on the side because it does contain onions. Funny thing is I hadn't even asked about onions in the chili because I was not really planning on eating any of the nachos with chili, just picking at the chips. I forgot to mention that the chef came out to the table to speak with us about the gluten-free menu before we ordered. He answered questions for us and assured us that he would oversee our food to ensure we were safe.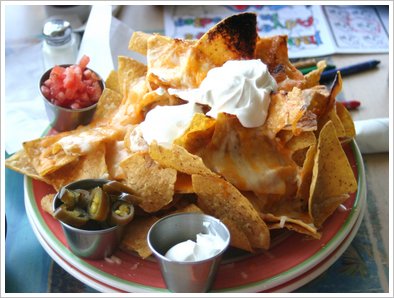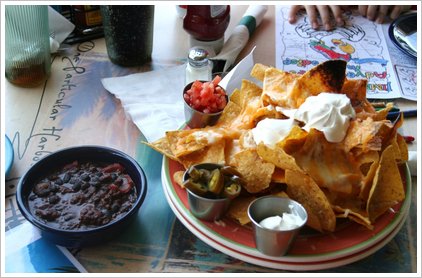 The nachos were outstanding! I did dip a little in the chili and I was super impressed with the flavor. Nice big chunks of meat & beans. Jon really enjoyed the chili. We had to stop eating so we would have room for our meals. We wanted to try to save room for dessert, too.
Jon ordered the Cheeseburger in Paradise for his lunch. The burger is made sans Heinz 57, as it is not gluten-free. Mr. Picky also got the burger without lettuce & tomato, so really he had meat & cheese on a bun. Bun is the key word of the day, in case you were wondering. 😉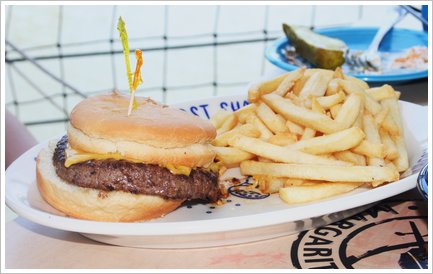 LOOK at that!!!! Can you believe it???
I ordered the California Chicken Sandwich. My sandwich came with Monterrey jack cheese, lettuce, tomato & watercress mayo (which I had them put on the side) on top and French fries.
I have no words. I almost cried, seriously. I know I am being melodramatic, but people, I had a GLUTEN-FREE BUN on my sandwich in a restaurant! LOL! The fries were pretty darn good, too! I was only able to finish half of my sandwich and half of my fries. As you see, we didn't even put a dent in those nachos and were stuffed. So sad that we didn't have room for the Chocolate Hurricane. 🙁
The food was not only gluten-free, but it tasted great. It is one thing to serve gluten-free food, but another to have it taste phenomenal. I was skeptical about the bun, but it was very good. It was slightly reminiscent of Kinnikinnick's English Muffin, but I can't say for sure if that is what it was.
In my opinion, more restaurants need to take a look at what Margaritaville is doing. Not only do they have a great gluten-free menu & food, but their service was 5 star. It is hard to find customer service like that these days. From the time we walked in the front door, until the time we left, we had excellent service. Everyone was well trained – not only in their particular job, but in gluten-free service & safety. My only complaint is there is not one in Columbus, Ohio.
One of the coolest things, aside from the gluten-free menu, was the "hurricane" that happened while we were there. At 12:30, a "weather report" came on the TVs and over the speakers warning of a hurricane. The song "It's 5 o'clock Somewhere" came on and a large cloud looking prop starting spinning on the ceiling in the middle of the restaurant. I went into the bathroom with Hannah and missed some of this (GRR) and when we came out, a large blender and margarita were spinning around in the middle of the restaurant – as if they had come out of this huge cloud from the ceiling. It was a Margaritaville Hurricane and the song "Margaritaville" was playing right along with it. I wish I had my camera out then!!
After our lunch, we rolled ourselves along the shops at Broadway at the Beach. We didn't have any specific plan, which sometimes makes the best days. We hit Ron Jon Surf Shop, many various T-Shirt & silly stores and finally, Pepper Palace. Jon had a bit of fun at Pepper Palace. There were samples out all over the store and while you are supposed to be over 18 to sample, if the child is with their parent, they can sample away. I gave my permission, so Jon went to town. We checked to make sure the chips & all salsas & dips he tried were gluten-free. He was particularly interested in the "hottest salsa on the planet". He went back & forth several times trying to decide if he wanted to try it and he finally did. Here are some pictures of how that went.
Keep your eye on the guy in the white – he starts to pay attention to Jon soon.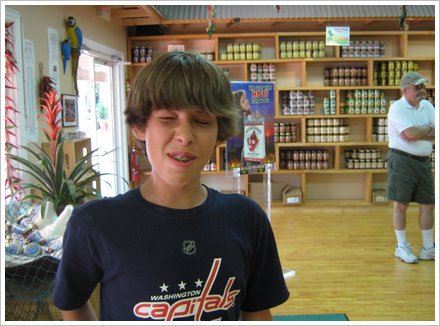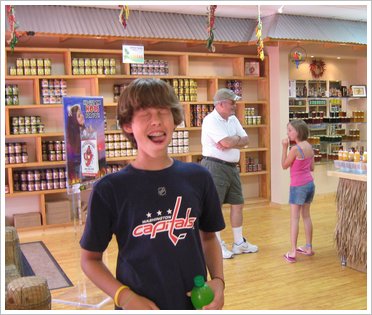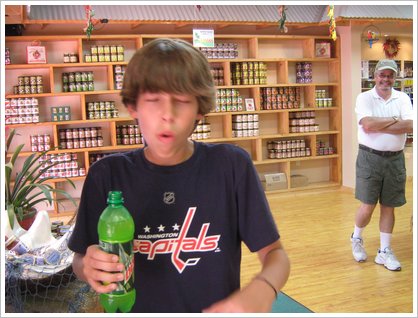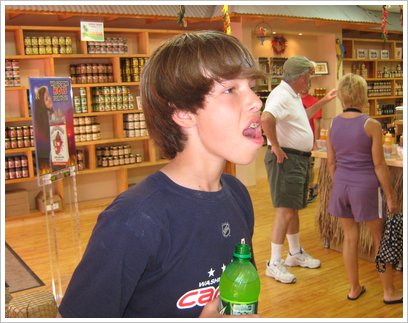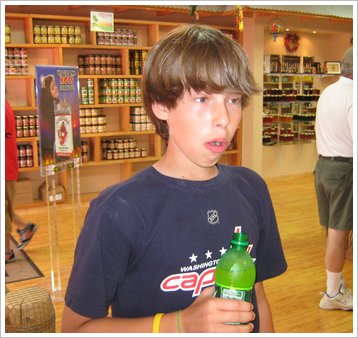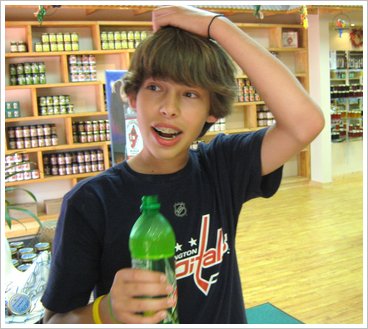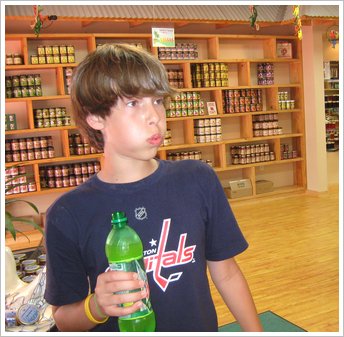 The burning got progressively worse as time went on. Also, the store employee warned him that milk would be a better chaser than the Mountain Dew he purchased, but you know, he is 14 and does what he knows is best.
The culprit.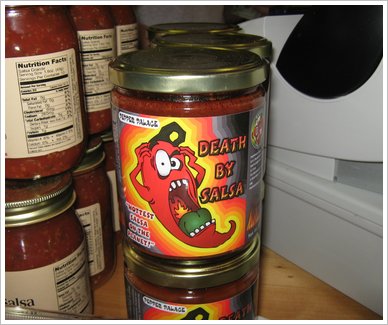 I forgot to mention that we also went to Ben & Jerry's. Perhaps we should have done that after the salsa? LOL!
We all had a great day! I was a little slowed down by my boot, but not too bad. I could have done a lot more damage to my wallet had I not been in the boot, so I am sure that Aaron appreciates that aspect! LOL!