If you are a reader of my blog, you are well aware that I am not a big fan of processed foods. As I am learning more about food, due in part to my having to scour labels for gluten (and onions), I have found that my body feels better when I eat whole foods or foods that have been minimally processed. Because I eat this way, my family does for the most part, too. So because this product does not fit into our typical meal plan, I was conflicted about how to write this review. But my readers tell me that they value my opinion, so it's important that I be honest about my impressions.
As I have mentioned before, I have been a part of the new Live Gluten Freely webpage since they relaunched in May 2010. One of the great benefits of writing for LGF is that I often get to try new products before I can find them locally. The newest product that I have been given an opportunity to try is Gluten-Free Hamburger Helper & Asian Helpers. I received all 3 varieties the other day – Cheesy Hashbrown, Beef Fried Rice and Chicken Fried Rice .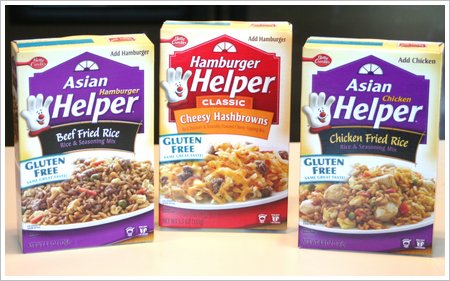 I made the Cheesy Hashbrown meal last night for dinner. I used lean ground turkey in place of the ground beef and butter in place of the margarine.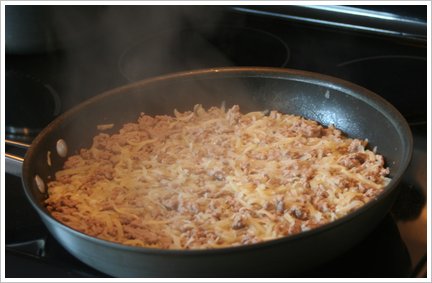 This meal was really easy to make and took me less than 30 minutes from start to finish. I started by browning the ground turkey, then I added the water and dried potatoes. After the potatoes were done & the mixture had browned & been flipped, I just topped with the cheese sauce, which is made with the included powder and milk (I used skim).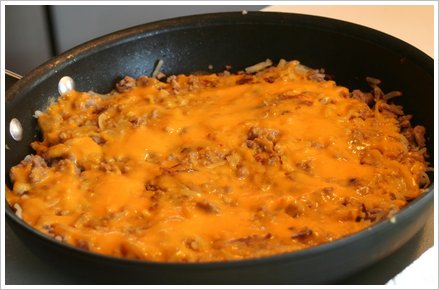 I dished out the food for the kids and added a couple of tortilla chips on the side. Jon asked for sour cream & taco sauce on his – whatever works, right?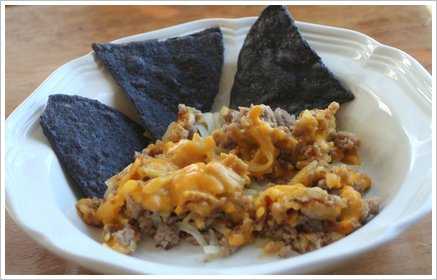 The meal has a good flavor. Jon liked his, but Hannah did not like hers. That being said, my kids are not big fans of casserole items or foods that are mixed together. Case in point: Hannah wouldn't eat rice the other day that had vegetables already mixed in it.
This meal is super easy to prepare, tastes good and will be available in grocery stores nationwide. It is important to note that the meal is high in sodium, as most processed foods are. The nice thing about these new meals is that they are great for those short on time, young adults just starting out, or a family member or friend who wants to make sure there is something gluten-free available to eat, and turns to General Mills as a trusted source to help them out. While this meal may not appeal to every gluten-free person out there, it will appeal to a lot of them. The use of convenience food is widespread these days.
General Mills and Betty Crocker have been leaders in labeling and producing gluten-free foods. Starting with the removal of barley malt from Rice and Corn Chex, next labeling the Yoplait Yogurts and then launching the Betty Crocker Gluten-Free Baking Mixes.
Now, for the fun part! I am giving away 2 Asian Helpers – 1 to each of 2 lucky readers. The Asian Helpers that are up for grabs are the Beef Fried Rice & Chicken Fried Rice. Unfortunately the winners won't get to choose which one they get, though I will take preferences into consideration, if possible. There are 5 different chances per person to win. Each person can choose one or all 5 of the ways to enter below. The more entries, the better chance you have to win, however, only 1 prize per person. Here are the different ways to enter:
1. Visit Live Gluten Freely and become a fan on Facebook. Leave a comment telling me you did so.
2. Visit Gluten-Free is Life on Facebook and become a fan if you are not already one. Leave a comment.
3. Follow me on Twitter. Leave a comment telling me you did.
4. Leave a comment here & tell me whether you prefer the Beef or Chicken Fried Rice.
5. Tell the person sitting next to you about Celiac Disease & the gluten-free diet to help spread awareness. Share your favorite gluten-free foods with them. Leave a comment. 🙂
Giveaway will end on Sunday at midnight! Good luck!!