One of my tried & true trusty gluten-free products has been Van's Gluten-Free Waffles. I have been eating them for most of the 4.5 years that I have been gluten-free. I have done through stages of how I like to eat them, including traditional, with syrup, as bread for a sandwich and spread with almond butter and topped with fruit spread or warm, cinnamon apples in the fall.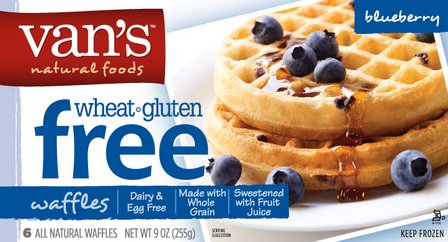 So, I want you guys to experience the awesomeness (one of my friend Erin's words ;)) of Van's. I am going to be giving away 10 coupons for free Van's waffles. Yes, you read that right 10 coupons! 10 lucky readers will each win a free box of waffles!! How do you win? Just read the instructions below. You can enter up to 3 times to increase your chances, but, you can only win one coupon/box, if that makes sense.
1. Leave a comment telling me which variety of Van's is your favorite
2. Follow me on Twitter, or if you already follow me, Tweet about this contest. Leave a comment telling me you did.
3. Become a fan of Gluten-Free is Life on Facebook. Leave a comment telling me you did.
Contest will run until Friday night at midnight! GOOD LUCK!!!
***Coupons were supplied by Van's International Foods in return for my writing an article for their blog that can be read here. My views and opinions of Van's Waffles have not been influenced by any coupons and/or samples. I have been eating these waffles for long before I started my blog.