Today I am doing a guest post over at Celiacs in the House. Wendy has partnered with Erin of Gluten-Free Fitness, Amy of Simply Sugar & Gluten-Free and Jean of GF Doctor to bring you this awesome series. My contribution has to do with overcoming adversity. If you have been a reader for a while, you know that I have had some setbacks recently, but things are starting to look up.
In May I completed my first marathon and the 2 companies that I am partnering with to offer this giveaway today really played a part in helping me through my training. The 2 companies are Jay Robb and Zensah.
Jay Robb protein powders were my first fuel source after my long runs. While I eat after every run, runs longer than 9 miles usually require immediate fuel to help begin the recovery process. Shorter runs & workouts allow me to come home and shower first, but not my long runs. In addition to finding something with the proper amounts of protein, I needed to make sure the product was gluten-free and agreed with my stomach. Even though I have been gluten-free for 4+ years, my stomach is still very sensitive to certain ingredients for unknown reasons. For this reason, I usually stick with whole foods, except in situations like this. There is no way I could take in the amount of nutrients that one of Jay Robb's shakes has, in whole foods, immediately after a run. I have no appetite and getting the shake in is hard enough. Check out these nutrients:
Serving Size: 30g (1 scoop)
Calories: 110
Total Fat: 0g
Trans Fat: 0g
Saturated Fat: 0 g
Cholesterol: 0 mg
Sodium: 150 mg
Potassium: 390mg
Total Carbohydrates: 1g
Dietary Fiber: 0 g
Sugars: 0g
Protein: 25 g
Amino Acid Profile Per Serving (Jay Robb's Whey Protein)
Isoleucine (Branched Chain Amino Acid) 1678 mg
Leucine (Branched Chain Amino Acid) 2518 mg
Valine (Branched Chain Amino Acid) 1458 mg
Alanine 1214 mg
Arginine 464 mg
Aspartamine 2634 mg
Cysteine 596 mg
Glutamine 4306 mg
Glycine 398 mg
Histidine 443 mg
Lysine 2297 mg
Methionine 530 mg
Phenylalanine 706 mg
Proline 1612 mg
Serine 1259 mg
Threonine 1789 mg
Tryptophan 443 mg
Tyrosine 685 mg
Some additional nutritional information:
Jay Robb's Whey Protein is made from the finest natural ingredients available and delivers 25 grams of first class protein, 0-fat, 0-cholesterol, 0-sugars, and only 1 gram of carbohydrate per 30 gram serving. Only cold-processed cross-flow microfiltered whey protein isolate is used as the protein source and this material comes from farm-raised, pasture-grazed, grass-fed cows not treated with the synthetic bovine growth hormone rBGH.

Whey protein isolate, which is used exclusively in Jay Robb's Whey Protein, is created by microfiltering liquid whey through a special ceramic membrane to create the highest grade of whey protein possible. This unique process also yields a whey protein isolate that is much higher in protein than a whey protein concentrate and is also rich in immunoglobulins, alpha-lactalbumin, and beta-lactoalbumin and other immune boosting factors.

Unique natural flavors and the herb stevia are used to create a flavoring system that is palate pleasing and has made Jay Robb's Whey Protein famous across the nation. Their tagline "The Best-Tasting Protein on the Planet" says it all.

Jay Robb's Whey Protein powder is the ultimate! We have left this product simple and natural, so that you can buy one of the highest quality and BEST-TASTING whey protein powders available anywhere in the world! If you don't think our Whey Protein to be the absolute best-tasting (natural) whey product ever developed, then we will refund you the price of the product! You've got nothing to lose! Mixes in water with a few turns of a spoon, or a quick shake in a shaker bottle. BEWARE of most protein powders on the market! Many of these formulas contain cheaper proteins, as well as tons of SUGAR, and refined carbohydrates in the form of: FRUCTOSE, GLUCOSE, GLUCOSE POLYMERS, MALTODEXTRIN as well as fake sugars chemically developed such as ASPARTAME, SUCRALOSE, ACESULFAME-K, and POLYDEXTROSE just to name a few.
I usually mixed my Jay Robb protein powder with almond milk or Vita-Coco coconut water. Some people complain of protein powders tasting chalky, but these aren't chalky at all. Â I have tried all 3 – whey, brown rice and egg white. I found that my stomach did not agree with the egg white proteins, but was fine with the whey & brown rice. I am lactose intolerant, but just pop a Lactaid when I use the whey protein. After my protein shakes, I would have time to come home, shower and stretch before sitting down to a real meal/breakfast. Train for a marathon and see how eating becomes like a full-time job.
Next up – Zensah compression leg running sleeves. These sleeves truly are the best thing since sliced gluten-free bread (Udi's, of course). I don't know how I could have made it through my training and marathon without them. When I trained & ran my half marathon last fall, I had some calf cramping towards the end of my training and during the race. I always made a habit to stretch, but it wasn't good enough. I had read about the Zensah sleeves on another running blog, so I decided that they could only help. I purchased a pair and wore them for every run from then on.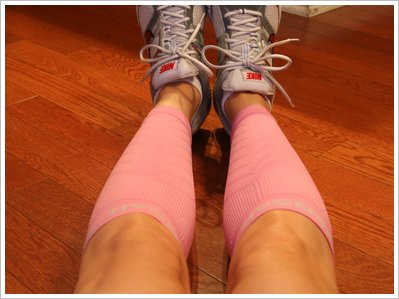 Mine are pink, as you can see, but they offer many different colors. It didn't matter how short the run was, I had the puppies on. I also wore them while traveling in the car for 8+ hours to Atlanta to see my sister. A little more from Zensah:
Athletes can wear Zensah Recovery Products before, during and after exercise, while relaxing, sleeping or traveling. The compression support will soothe the legs while resting, helping the muscles recover faster and eliminating the unwanted pain.

For example, the Zensah Calf/Shin Leg Sleeves provides Dual Action Support to both the calf and shin, the two hotspots for pain in the lower leg. The Chevron Ribbing on the sleeve is the exact same taping schematic that athletic trainers use to help prevent shin splints, making the Calf/Shin Sleeve ideal for post-exercise recovery to prevent the onset of painful injuries such as shin splints. The big idea is the uniqueness of our seamless approach makes Zensah products one level above all other compression products in the market.

Compression helps stabilize muscle tissue after a workout, practice or game, keeping the swelling of muscle fibers at a micro and manageable level, allowing the muscles to rebuild themselves. The beauty of compression support is that it lets the athlete wake up the next day feeling fresh instead of feeling aches and pains. This is how athletes get better, faster and stronger.
Now, for the best testament to these sleeves – I wore these for 26.2 miles and put them back on after my race for the rest of the day. When I woke up the day after my marathon, I could barely walk. My feet were killing me, as were my hamstrings & quads, but my calves were fine. I went for a massage of my lower body that same day and the massage therapist said that he had never seen calves in as good of shape as mine were the day after a marathon! Once I told him that I wore the Zensah sleeves, he said it was the smartest thing I could have done. Now, if I could have had the same luck with my foot, I would have been golden. 😉
Jay Robb has put together a wonderful sample package that includes multiple protein powders (8), several protein bars (3-4), a shaker cup, sparkly t-shirt and bag. Zensah is giving away one pair of leg compression sleeves. The winner will be able to choose their size and color of sleeves.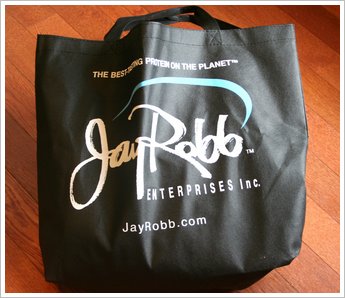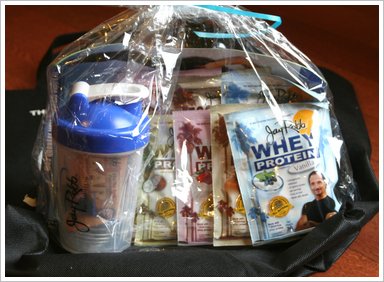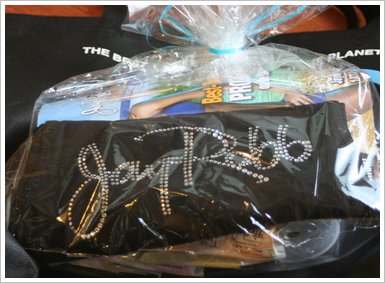 To enter to win this awesome prize package, follow the instructions below. The lucky winner will be chosen first thing Saturday morning. Contest ends Friday (7/23/2010) at midnight (EST).
1. Visit the Zensah & Jay Robb websites. Leave a comment telling me which Zensah product interests you most & which Jay Robb product you would most like to try.
2. Follow Jay Robb, Zensah & me on Twitter (if you Twitter). Leave a comment.
3. Follow Gluten-free is Life on Facebook. Leave a comment.
4. Tweet or blog about this giveaway & leave a comment telling me you did.
Good luck!!! Remember, I will choose the lucky winner on Saturday AM!
Now, for one more extra special treat….Jay Robb is offering my readers a 15% discount on all of their products through August 31, 2010 with the following coupon code: