Did you have your waffles today? August 24th, 2010 is National Waffle Day! Here is some fun information about the day & waffles from MrBreakfast.com:
National Waffle Day (August 24) is the anniversary of the first U.S. patent for a waffle iron. Cornelius Swarthout of Troy, New York received his patent for a "device to bake waffles" in 1869. His early waffle iron was used in conjunction with coal stoves, consisted of a griddle and a cover and required flipping of the device to cook both sides of the waffle. At present, National Waffle Day is at best a "bizarre" or "unique" holiday" – the fluff stuff of radio DJ commentary. Waffle promotions at some restaurant chains have helped to keep the holiday alive, if only barely.

13th Century A.C. – Ancient Greeks cook flat cakes between two metal plates. These early waffles were called obleios and were primarily savory in nature, prepared with cheeses and herbs.

1620 – The pilgrims bring Dutch "wafles" to America.

1735 – The word "waffle" – with two "f"s – appears in English print for the first time.

Late 1800's – Thomas Jefferson returns to the U.S. from France with a long handled, patterned waffle iron.

1869 – Cornelius Swarthout patents the first U.S. Waffle Iron.

1953 – Frank Dorsa's Eggo Frozen Waffles are sold in Supermarkets for the first time.

1964-65 – Brussels restaurateur Maurice Vermersch brings his wife's Brussels Waffle recipe to the World's Fair in New York. The fluffy yeast-infused waffle becomes a huge hit and becomes known as the Belgium waffle.
I love waffles and had some Van's gluten-free blueberry waffles for breakfast. 🙂 I love to top them with almond butter, fruit spread & fresh fruit. In addition to Van's, there are several other frozen gluten-free waffles on the market:
Trader Joe's

Nature's Path

Kinnikinnick
Van's
If frozen waffles aren't your thing, there are many great mixes on the market as well:
Better Batter

Bob's Red Mill

Pamela's

Kinnikinnick
Making your own from a mix or from scratch lets you customize ingredients. I personally like to add blueberries to my waffles, but chocolate chips, pumpkin and other berries work well, too.
Here is a picture of my morning waffles today.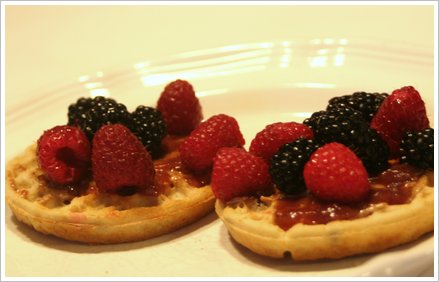 And, I will leave you with a perfect fall waffle recipe from Karina – The Gluten-Free Goddess – Pumpkin Waffles.
**************************************************************************************
Don't forget to enter here for your chance to win some sweet summer desserts from Katz Gluten-Free.