Recently I had the opportunity to review a really cool product. Linda, from Hometown Seeds, contacted me and asked if I would be interested in trying out a sprouter. I loved the idea of this! How cool would it be to grow sprouts in my kitchen?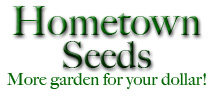 I received a 3-Tray Kitchen Sprouter and organic alfalfa seeds. I read over the instructions and found that I should be able to grow these without killing them. I have a horrible track record when it comes to plants, just ask my mother-in-law (Hi Mary!). I spread the seeds out, as directed, on the 3 trays and then stacked them up like a tower. I added water twice a day to the tray on top and watched it slowly drain down through the trays. Hannah really enjoyed watching this whole process. This would be a really cool activity for elementary school classes, Boy Scouts or Girl Scouts to try! The sprouts only took approximately 4 days to get to this stage.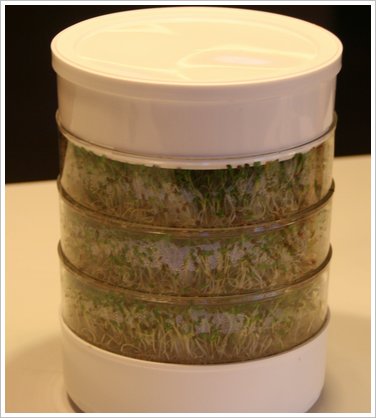 Look – I did it!!!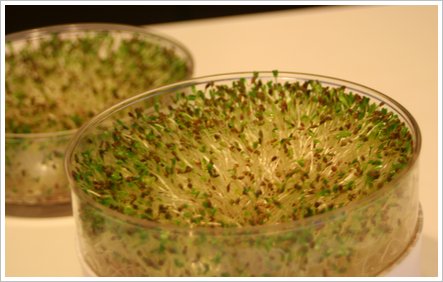 We really enjoyed eating these on our sandwiches, wraps & salads! The kids weren't crazy about them, but I am just happy they tried them. I loved knowing exactly where these sprouts came from – my own kitchen. I didn't have to worry about any chemicals or contamination that could have occurred during the growing or processing stages. I love the GMO statement from Hometown:
Hometown's Safe Seed Pledge
Seeds are the core of our business and vital to life on our planet. We must protect this foundation as a safe and genetically stable source for future generations. We pledge that we will not knowingly buy or sell genetically engineered seeds. We are not confident in the safety of GMO seeds and therefore will not sell them to our valued customers. We believe they are being released for public use prematurely. More research and testing is necessary to further assess the potential risks of genetically engineered seeds.
Hometown Seeds sells vegetable, flower, and herb seed packets, focusing on small quantity home gardeners. There is a wealth of information on their site about the gardening process (something I really should read through thoroughly for future gardening attempts). The seeds can be purchased securely on their online store.
Now, the fun part – Hometown Seeds has offered to give 1 lucky reader a 3-Tray Kitchen Sprouter and packet of organic alfalfa sprout seeds!
Here is what you need to do to enter. You can enter up to 3 times, but must leave a comment for each entry:
1. Visit the Hometown Seeds website & tell me what seeds you would buy.
2. Follow me on Twitter.
3. "Like" Gluten-free is Life on Facebook.
The giveaway will run until Midnight on Sunday. I will announce the winner on Monday. Good luck!!
**In the spirit of full disclosure, I received the products mentioned above free of charge from Hometown Seeds. The opinions voiced in this blog are mine and have not been influenced by anyone or anything. Click here to read my full disclosure statement.