I know there are a lot of you out there that have been waiting to get your hands on the brand spanking new Gluten-Free Bisquick. Well, I have some good news for you all – together with Bisquick & MyBlogSpark, I am offering up a super cool prize package that includes a box of the Gluten-Free Bisquick.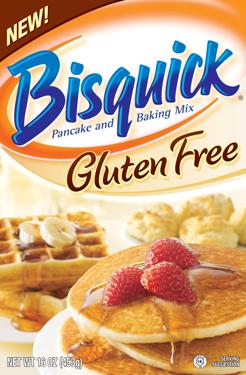 There are so many recipes on the Gluten-Free Bisquick site! Strawberry Shortcake, French Apple Pie, Pizza Crust and more. Of course you can make pancakes, too, and that is what this prize package is all about. For more information on how to use GF Bisquick, make sure to "Like" Bisquick on Facebook. Tips & tricks for cooking & baking with GF Bisquick can also be found here.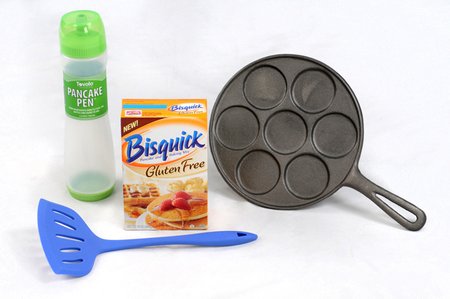 Not only can you make mini-pancakes with the cast iron pan (called a Swedish Platt Pan), but you can make your own designs with the pancake pen! The Swedish Platt Pan is used to make tasty Scandinavian Pancakes. The recipe will be included with your prize package. And I don't know about you, but I love spatulas like this. There is a place for a wider spatula and monster pancakes or pizzas are it!
I bet you want to know what you have to do to win this package now, right? Just follow the simple steps below. Only the first comment is mandatory to enter. Each additional step you complete earns you an additional entry! Ready?
1. If you win, what would you make with the Gluten-Free Bisquick?
2. "Like" Gluten-Free is Life on Facebook.
3. Tweet about this giveaway making sure to include "@kbouldin" and "#myblogspark"
4. Share on your blog or Facebook page and then post a link.
This giveaway will run through Sunday, October 3, 2010 at midnight. Good luck!!!
Click here to print a coupon for $1.00 off any Bisquick product.
**I received the prize package above courtesy of Bisquick & MyBlogSpark free of charge.