No, that is not my pet name for my husband, nor is it his pet name for me. It is the name of a type of squash that I picked up the other day at the store. The sweet dumpling squash is a type of winter squash. There are many types of winter squash in the same species (Cucurbita pepo) as the sweet dumpling. Some of those other types are:
Acorn squash
Delicata squash
Dodi marrow, grown in South Asia[2]
Gem squash
Heart of gold squash
Pattypan squash
Some types of Pumpkin
Spaghetti squash
Sweet dumpling squash
Yellow crookneck squash
Yellow summer squash
Zucchini
That seems about right. I don't think I have met a squash that I didn't like. I love to roast squash and then bake the seeds to eat later on. Spaghetti squash makes a great substitution for pasta for those on a low carb diet. It also works great as a vegetable stir fry. Just take a look at how pretty the sweet dumpling squash is.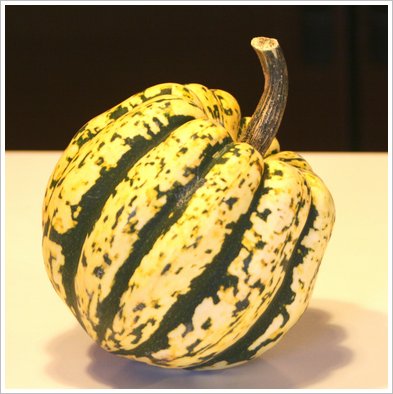 It was almost too pretty to roast & eat. Almost. There are many different methods to baking or roasting squash. I prefer to start by cutting off the top and scooping the seeds out. Then I slice the squash in pieces that allow it to roast quickly, as opposed to keeping it whole. By cutting it into pieces I am looking at 30 minutes or less to roast. I don't peel my squash before I roast it. I enjoy the taste & texture of most of the skins or peels, but if they do end up being too tough, I can always remove them after roasting or baking. This method also helps me keep all of my appendages attached. 😉 If you have ever cut up a raw squash, you know what I am talking about.
After the squash is cut into pieces I toss in a little bit of extra-virgin olive oil and then season. My go-to seasoning is simply sea salt & pepper. There are so many spices that would compliment this squash. Cinnamon, nutmeg and a touch of honey or agave or spice it up with some curry or cumin & cayenne. I love to add this squash to a big bowl of garbanzo beans, brown rice or quinoa and then toss in some feta or goat cheese. Adding in even more roasted veggies is good, too.
If you really wanted to get adventurous, you could bake or roast the squash in one piece (hollowed out) and then fill with a nice, warm chili or soup. I bet this Cocoa Coconut Chili would be awesome in this! I love playing with my food. 🙂
Have you tried any new fall vegetables? I am really trying to eat in season, so I am open to hear any ideas from you guys.