Mambo Sprouts is a wonderful resource for Celiac Awareness. As I blogged about last week, October is Celiac Awareness month. I do whatever I can, whenever I can, to raise awareness for Celiac Disease. I love Mambo Sprouts because in addition to having all kinds of useful information & recipes, they have coupons online available to print and send them out in the mail as well.
Some of the coupons available this month are for great products made by the following companies:
I had the opportunity to review some of these products that I hadn't sampled before. I will share a brief summary below.
Rudi's Gluten-Free Bread- 3 varieties – Original, Multigrain & Cinnamon Raisin. This bread ranks right up there with Udi's Gluten-Free. I especially love the Cinnamon Raisin Bread for breakfast with a touch of almond & pumpkin butters. Here is a coupon for $1.50 off any Rudi's Gluten-Free product.
Mi-Del Cookies – While I have sampled many of the varieties of the cookies that Mi-Del makes, I had not had the chance to try the S'Mores Cookies in the 90 calorie snack packs. They are mini chocolate graham cookies with marshmallows. I love these cookies! These are great for an after school snack or a light dessert after lunch or dinner. Here is a $.75 off coupon for any Mi-Del product.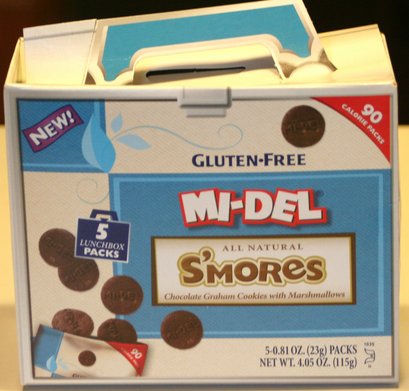 Lundberg Brown Rice Pasta – I have been eating Lundberg rice for years, but had not yet tried their brown rice pasta. The pasta comes in 4 different shapes: spaghetti, penne, elbow & rotini. The pasta has a great texture and is not gritty in the least. Here is a $.75 off coupon for 1 Lundberg product.
Lifeway Kefir – Lifeway makes a variety of products, none of which I had tried up until a few days ago. I was able to sample the Strawberry Low Fat Cultured Milk Smoothie. Not only does this product have a great taste, but lots of health benefits, too! Click here for $1.00 off any 2 Lifeway products. *All of Lifeway's products are GLUTEN FREE EXCEPT for the Probiotic Wellness Bars. The bars are produced at a different facility separate from where Lifeway Kefir is produced. Therefore there is no nut and gluten contamination to our Kefir products.
Udi's Gluten Free – You have all heard me sing the praises of Udi's for a while now. I am a loyal supporter and can't wait to sample their new products coming out early next year. I can't get enough of their pizza crust lately! They freeze nicely and can be pulled out to make a quick, healthy meal in a hurry. Click here for a $2.00 off coupon for Udi's.
Mambo Sprouts has may other coupons available to print right now, too. Some of those gluten-free products include:
Blue Diamond Nut Thins

Nasoya Tofu

San-J Sauces

Santa Cruz Peanut Butter

R.W. Knudsen Spritzers

Florida Crystals

Numi Organic Tea
Make sure to check out the awesome recipes section. You can customize your recipe search by diet type and ingredients, too. I love that there are so many gluten-free recipes available. Resources like these, coupled with companies like those spotlighted by Mambo Sprouts, help make life just a little bit easier & much more pleasurable for those with Celiac Disease.
***I would like to thank Mambo Sprouts for the complimentary samples sent to us to review this month. The opinions posted on this blog are mine and have not been influenced by anyone or anything.